Meet The GBR Biology Team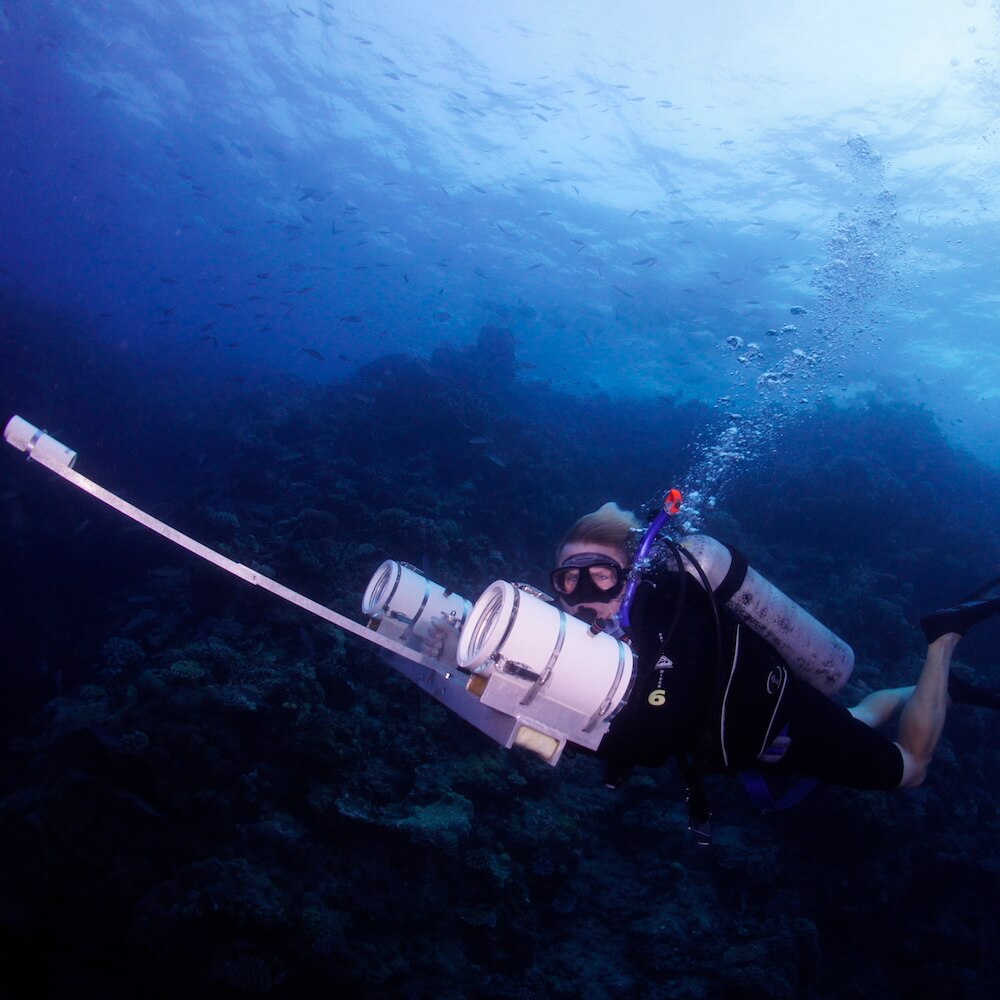 Biology Manager
Bachelor of Science (Honors Marine Biology), PhD Candidate, JCU
Eric grew up in North Queensland and graduated from James Cook University in Townsville 1992 with a Bachelor of Science degree with Honors in marine biology. Following university and extensive travel overseas, Eric has settled back in North Queensland and has followed his passion for understanding and exploring the Great Barrier Reef and has worked extensively in Tourism. Eric has extensive in-water experience with snorkellers in taking ~60 000 people on guided snorkel tours and has a passion for creating historical data sets on fish aggregations and large herbivorous fish movements. The long-term fish aggregation data set compiled at Moore Reef has been used to create a PhD project.
Favourite thing on the reef:
Eric's favourite thing to see on the reef is fish aggregations. This is where fish repeatedly gather at the same time and place, to perform vital tasks, such as feeding or reproduction. In coral reef ecosystems fish aggregations are often multi-species and species assemblages at these sites can change seasonally. Fish aggregation sites are often found on the outer edges of coral reefs at the transition, where coral meets the open water. Ecologically, fish aggregations play two important roles on coral reefs which is imputing oceanic nutrients into coral systems and replenishing fish populations. The other and often overlooked thing about fish aggregations, is that they are incredibly wonderful to see and they are constantly changing.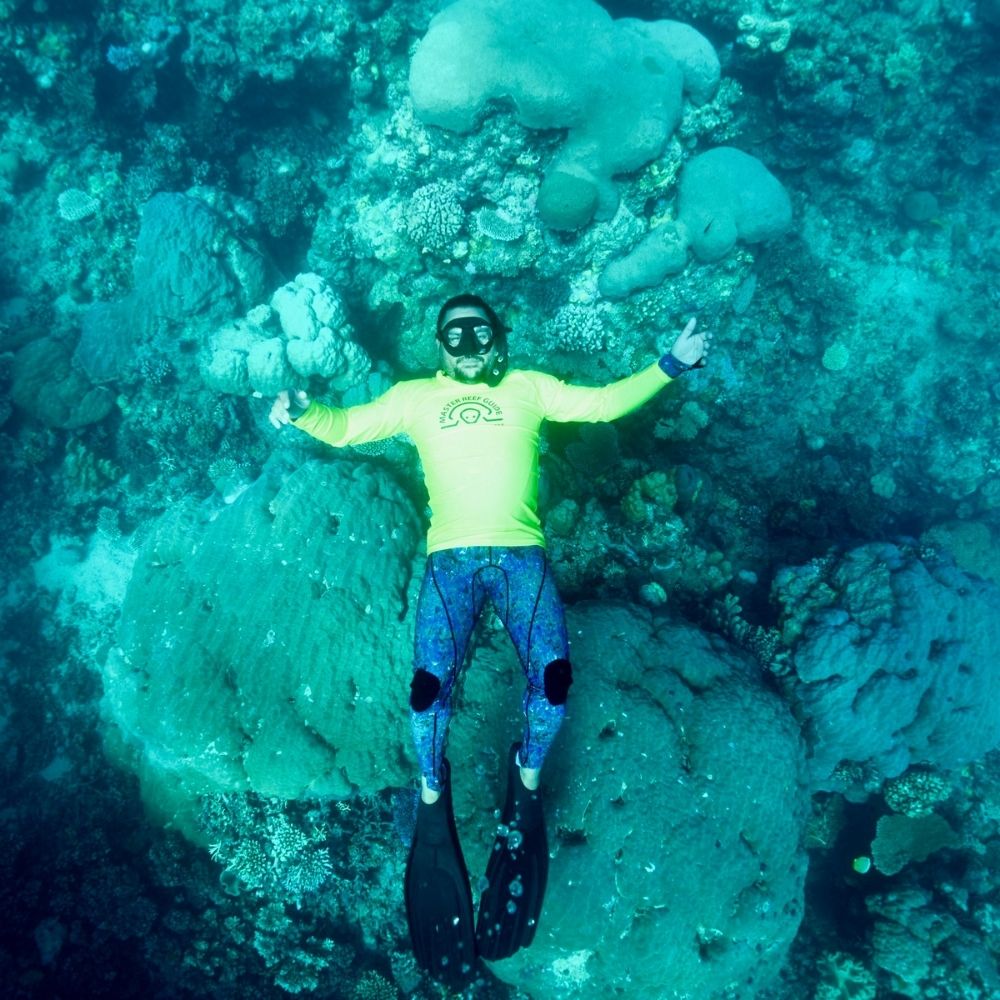 Hi I'm Dustin, I am a Cairns local, growing up in Yarrabah and spending most of my youth there before making the move to Cairns City. I am very fortunate to have connections to 4 out of 70 clan groups that span the Great Barrier Reef, those clan groups are the Kuku-Yalanji, Yirrganydji, Yidinji, Gunggandji.
My passion for the reef and being on and in the water goes back as far as I can remember, I have always had a connection to the Great Barrier Reef because of my cultural heritage. My passion for the reef and the marine life it holds will never go away as it is a part of me and makes me who I am. when I was younger, I had numerous teachers and the main message they all taught me was "Look after the place (land and sea) and in return it'll look after you and those who'll be here after you (the next generation)".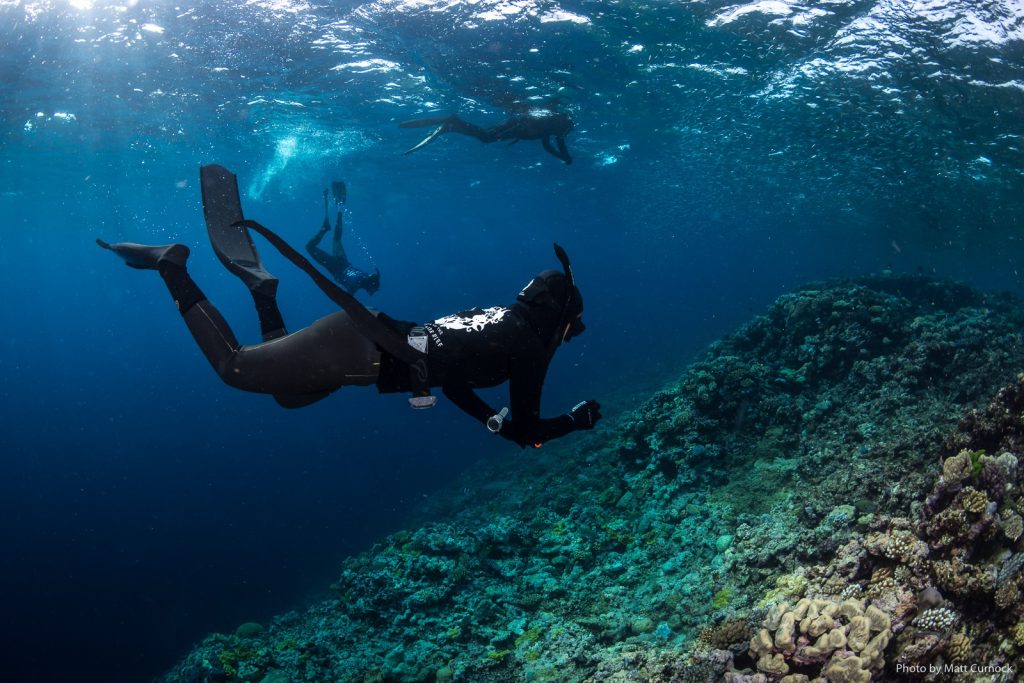 I am delighted to accept the Education Manager position at GBR Biology. Working as a Marine Biologist for GBR Biology, I have seen first-hand how impactful our Reef Ed Programs are.
Prior to working for GBR Biology, I worked as a secondary school science teacher and then moved into leading and developing education programs at the Port of Melbourne. As a passionate educator, with over fifteen years of experience designing and delivering curriculum-based learning programs, I have no doubt that myself and our incredible team of Marine Biologists and Cultural Guides will be able to deliver a program to suit your needs.
I have been lucky enough to witness the care and detail that Sam puts into each and every one of her school bookings, and I can't wait to collaborate with you all to help your students form unforgettable experiences and connections to the Great Barrier Reef.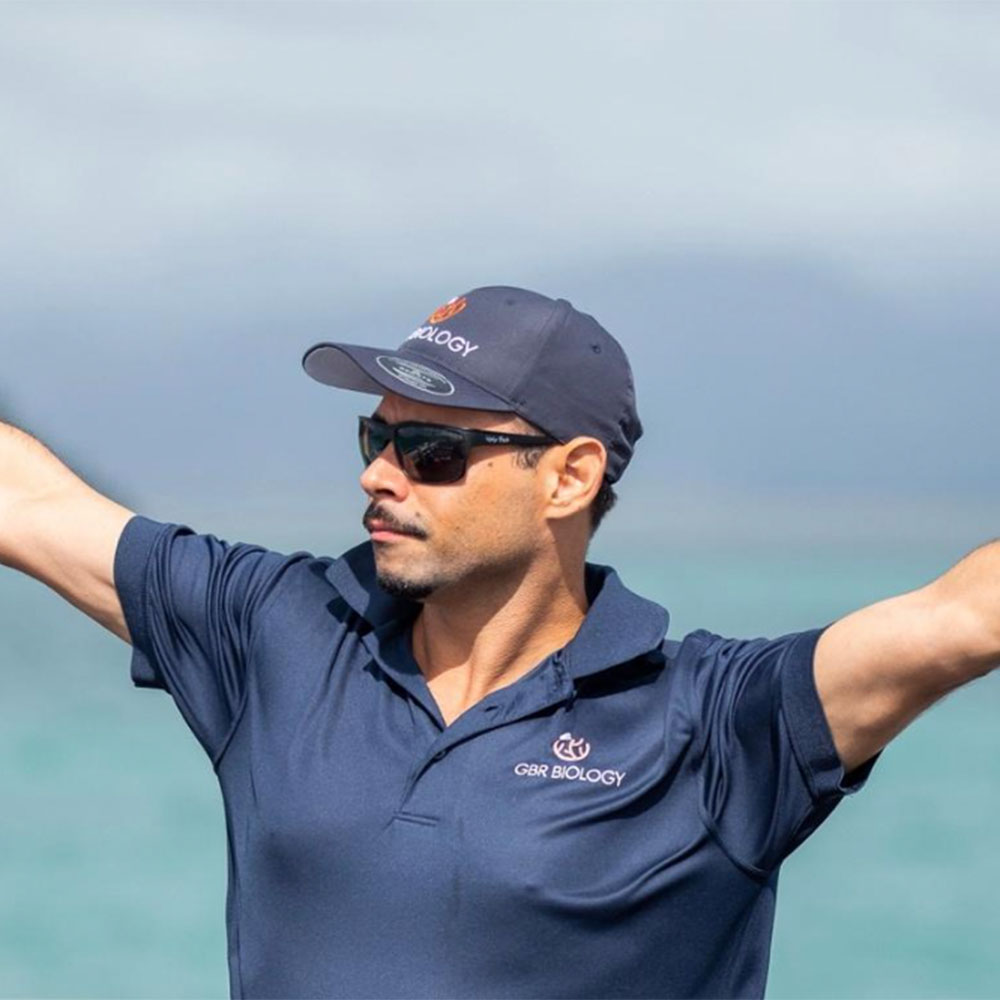 Hi my name is Tarquin, I'm a saltwater bama (person) from Cairns to Port Douglas. I am Yirrganydji and I grew up on Gunggandji Country, Yarrabah. I have been a Land and Sea Ranger for the last 7 years and since 2015 have been working on the GBR. During this time I have had many enjoyable experiences while developing the right skills to look after Sea Country. This includes Scuba Diving, Vessel Driving, Compliance, Reef Health Monitoring, Archaeology, Cultural Heritage, Community Engagement and Education and Promoting the Values of the World Heritage Great Barrier Reef.
I enjoy telling people about the local history, both modern (last 100 years) and traditional (pre-European). One fact in particular I like to talk about is how the Irukandji jellyfish (Carukia barnesi) got its name. In the 1950's a medical practitioner named Hugo Flecker investigated a mysterious marine illness that was affecting people of Palm Cove, calling it Irukandji Syndrome. Later on, in 1964 a Doctor named Jack Barnes discovered it came from a tiny jellyfish to which he named it after the local Traditional Owners, the Yirrganydji People.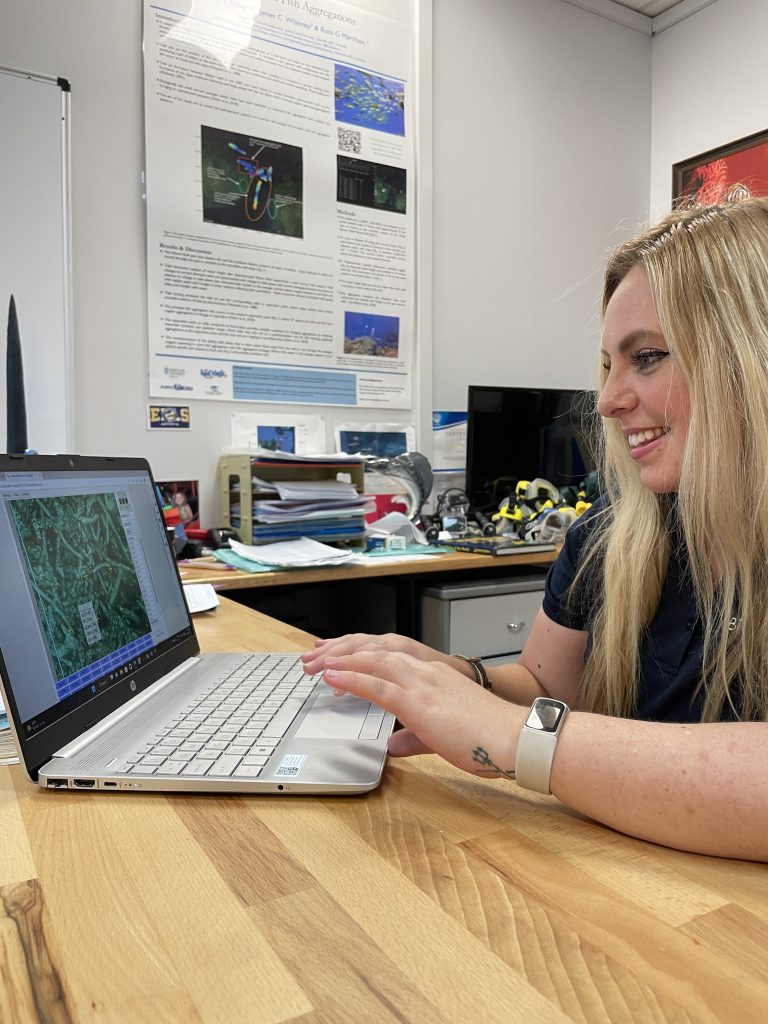 Hi, I'm Nicki!
I've always had a love for marine creatures but it was when I started SCUBA diving that I grew an appreciation for, and a desire to understand, how each animal and plant plays an important role in the balance of an ecosystem. I did my Master of Philosophy (Science) at La Trobe University in Melbourne where I studied the invertebrate biodiversity associated with a recently discovered bryozoan reef. I was also lucky enough to spend time in Costa Rica tagging and releasing turtles and rays with local scientists as well as visiting fisheries and recording their shark by-catch. I hope to one day research the movement patterns and population dynamics of sharks and ray species.
Growing up in Melbourne, the Great Barrier Reef was always the place I would travel to so I could feed my fascination and passion for coral reef ecosystems and now I get to work here every day and hopefully play a part in inspiring that same awe in other people! I have an obsession with Spotted Eagle Rays because of their incredible elegance and mystery.
Their spots are as unique as a human fingerprint and can be used to identify an individual.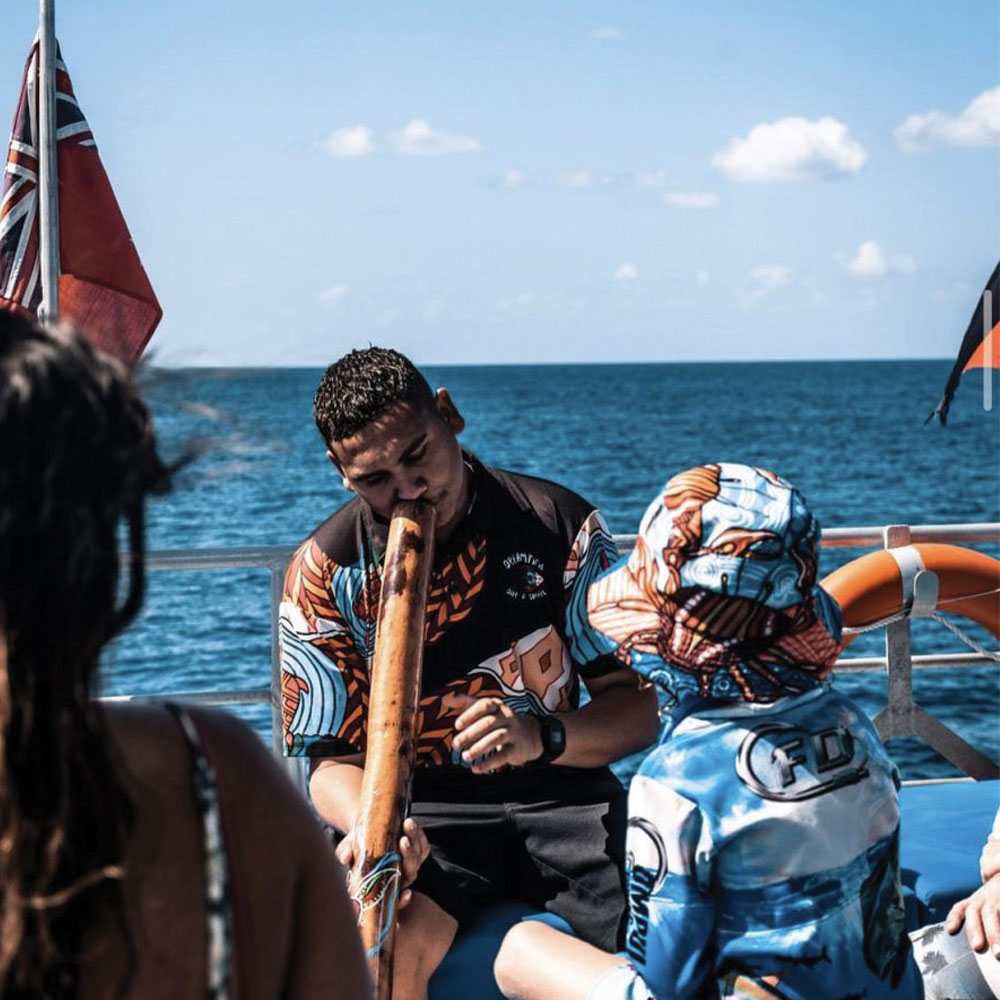 Hi my name is Brian Connolly, I belong to the Kuku-Yalanji Tribe, The Great Barrier Reef was a big part of my life growing up and after graduating school I got a chance to come out on the boats and see what the staff out here do. I fell in love instantly and with the help of my brother I was able to get my job on the Great Barrier Reef expressing and sharing my culture with people from all around the world.
My favourite thing about the reef is just the overall beauty of it and the marine life that calls it home. Everything has a specific job and role that is important for the reef and keeps the ecosystem going. The animal I like the most would probably be the manta ray or rays in general.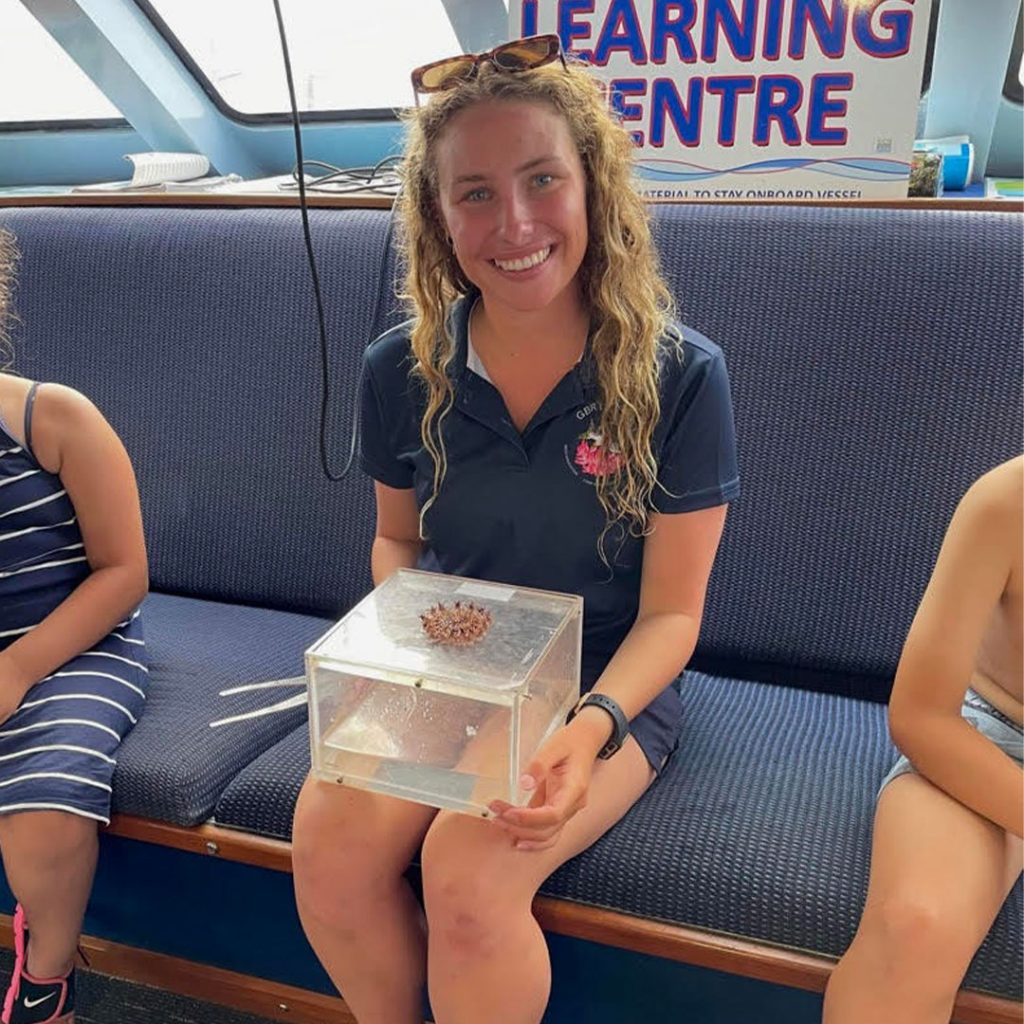 BSc (marine biology)
Hi I'm Brittany, a marine biologist from the Sunshine Coast. Since graduating with a Bachelor of Science from James Cook University in 2021, it only felt natural to pursue a pathway on the reef that blurs the lines between work and play. I love educating and connecting visitors to the Great Barrier Reef through stories, fun facts and experiences. I believe it is this connection to the reef that motivates individuals to go home and create small changes in their lifestyle that can aid in the protection of the reef. Now is an exciting time to welcome interstate travellers and teach them about this World Heritage Site that we are so fortunate to have right on our doorstep.
The Maori Wrasse (Wally) is my favourite marine animal on the reef because of his rarity and natural beauty. Wally is a crowd-favourite to many visitors on the reef, acting as a great conversation starter to chat about the importance of conserving marine species and habitats. It makes my day when visitors' eyes light up when Wally comes to say 'hi'!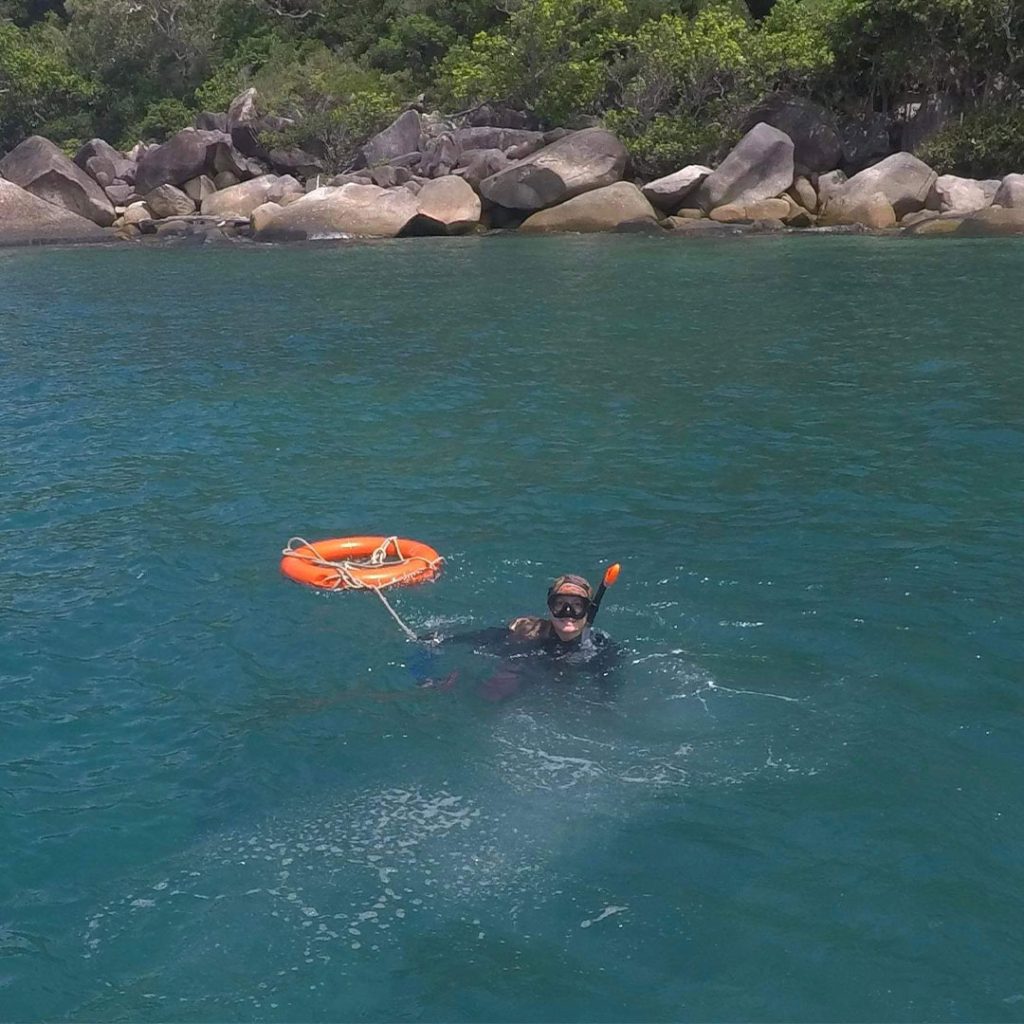 Hey, I'm Caitlin!
I have always had a love and fascination of our oceans and will forever be a bit of an animal nerd. This stemmed from family camping trips and adventuring around the coast of Victoria. I combines these passions and studied Zoology and animal science where I was lucky enough to study in Borneo and live in the Amazon rainforest throughout my studies. I had always dreamt of working on the Great Barrier Reef especially after watching snippets of David Attenborough and seeing the diversity of corals and fish life.
While I love all cetaceans, my favourite marine creature would be a Humpback Whale. Growing up on the surf-coast I spent a lot of time in the water surfing and snorkelling and I remember seeing a whale out in the surf when I was about 13 and thought it was the coolest thing I'd ever seen. I am interested in the behaviours and social structures in humpback whales and how external factors can influence them. I was privileged to be apart of the 2021 HHARC whale research team, where we started a 3 year project determining the hearing range of these creatures.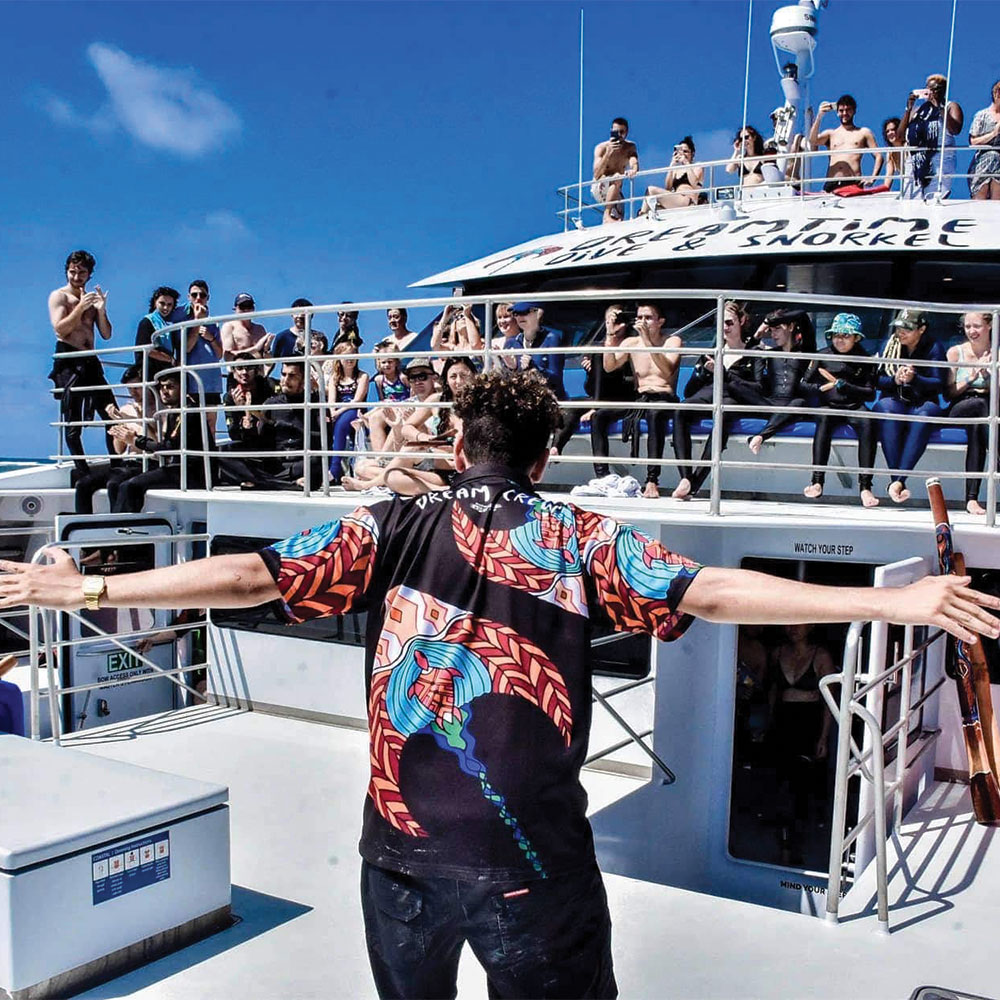 Hey there, my name is Lazarus Gibson! I am a proud Aboriginal man from Kuku Nyungkal from Wujal Wujal. I started working in tourism when I was 15 years old, while completing a Tafe program called Schooltec. Fitzroy Island was the first place I started working, where my role included hiring out snorkel equipment and talking to guest sharing the stories of the island. Ever since then my passion for the marine environment has grown and I have loved working on the water.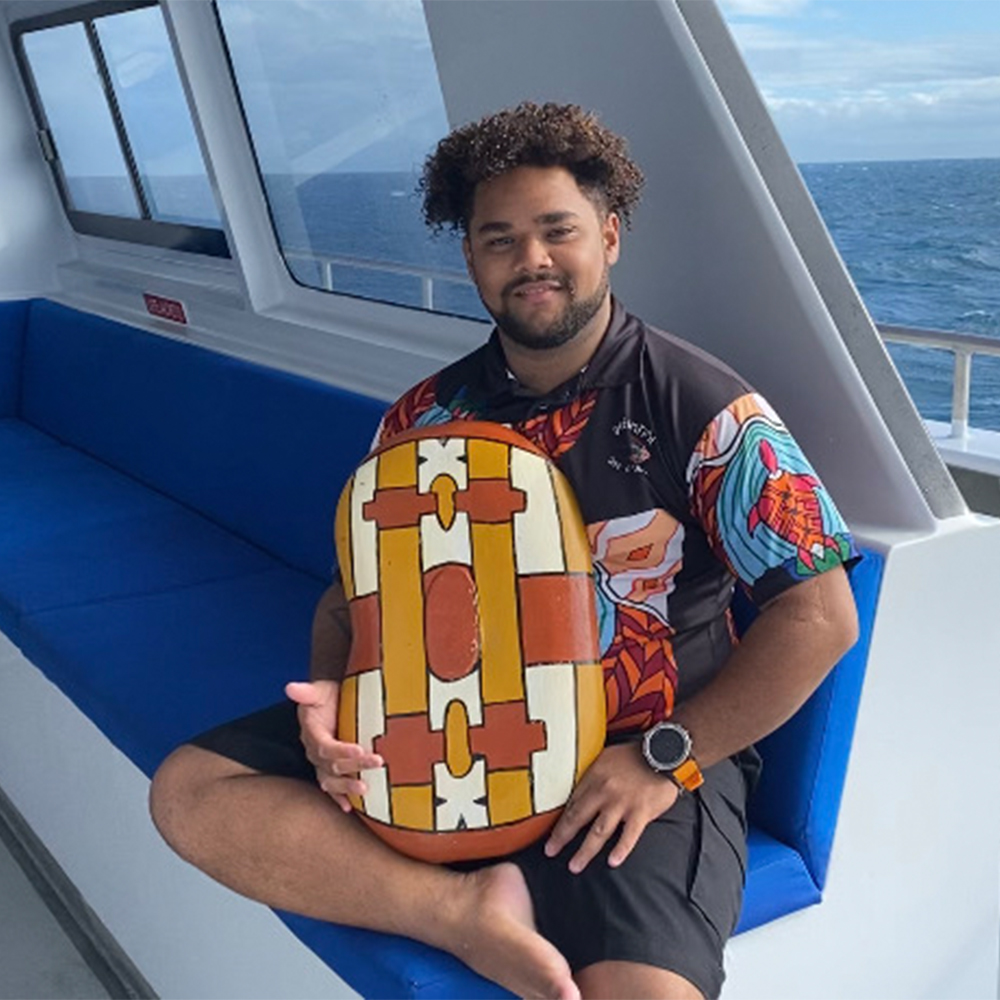 I am a Meriam man here in Cairns and have been raised here all my life. I am a Dive Instructor for Experience Co while also teaching about culture as a Cultural Coordinator on their reef education experiences. I never knew what I wanted to do after leaving high school over 4 years ago, but I was lucky enough to have found my place in the diving and tourism industry. I completed a traineeship that was out of my comfort zone on board Reef Magic Cruises and Dreamtime Dive and Snorkel, where I still continue my journey in tourism. I love my job as I have become part of a team and continuing to teach people to dive, while passing our amazing culture to the people visiting our amazing reefs.
My favourite marine creature would be the Yellow Boxfish. The reason being, yellow is my favourite colour and as a juvenile the boxfish is a tiny yellow box with equally tiny fins.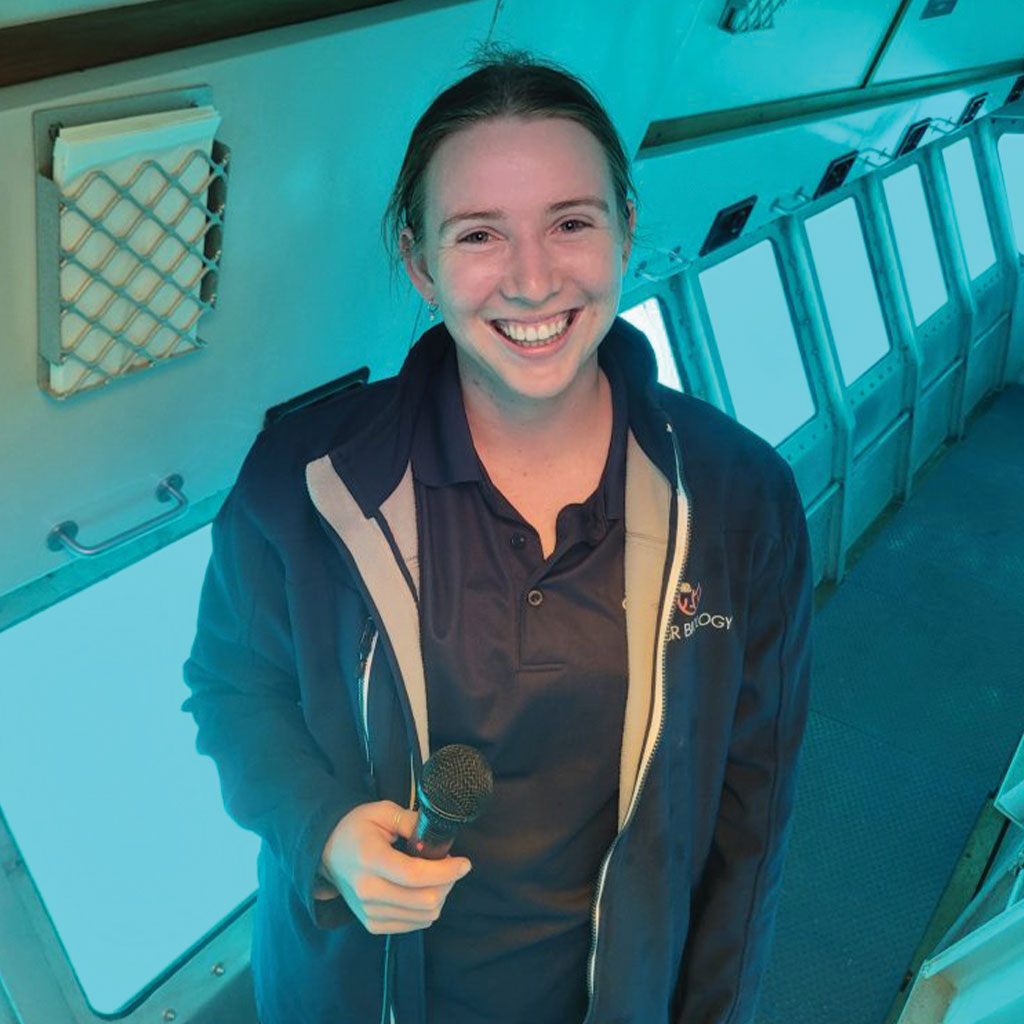 Hi, I'm Flo. I studied science majoring in Marine Biology and then completed an honours project as part of my studies where I mapped live coral cover with drones. I am new to this industry, this is my first role as a Marine Biologist and I have been enjoying sharing my love of the ocean. My job involves working out on the reef, where I talk to customers about the reef ecosystems. I love the chance to help connect people to the underwater world. I still have a lot to learn but I enjoy getting to teach others about the amazing marine life on the Great Barrier Reef.
My favourite part of the reef is the coral. I am forever in awe of how these animals that begin their lives as tiny larva are the ones responsible for building entire reefs. I am fascinated by this unique biological process that creates entire ecosystems. Spending time out in the water you really get to appreciate the amazing diversity of corals we have here on the Great Barrier Reef and how each of them provides a special place to live, hide or eat for so many other reef creatures.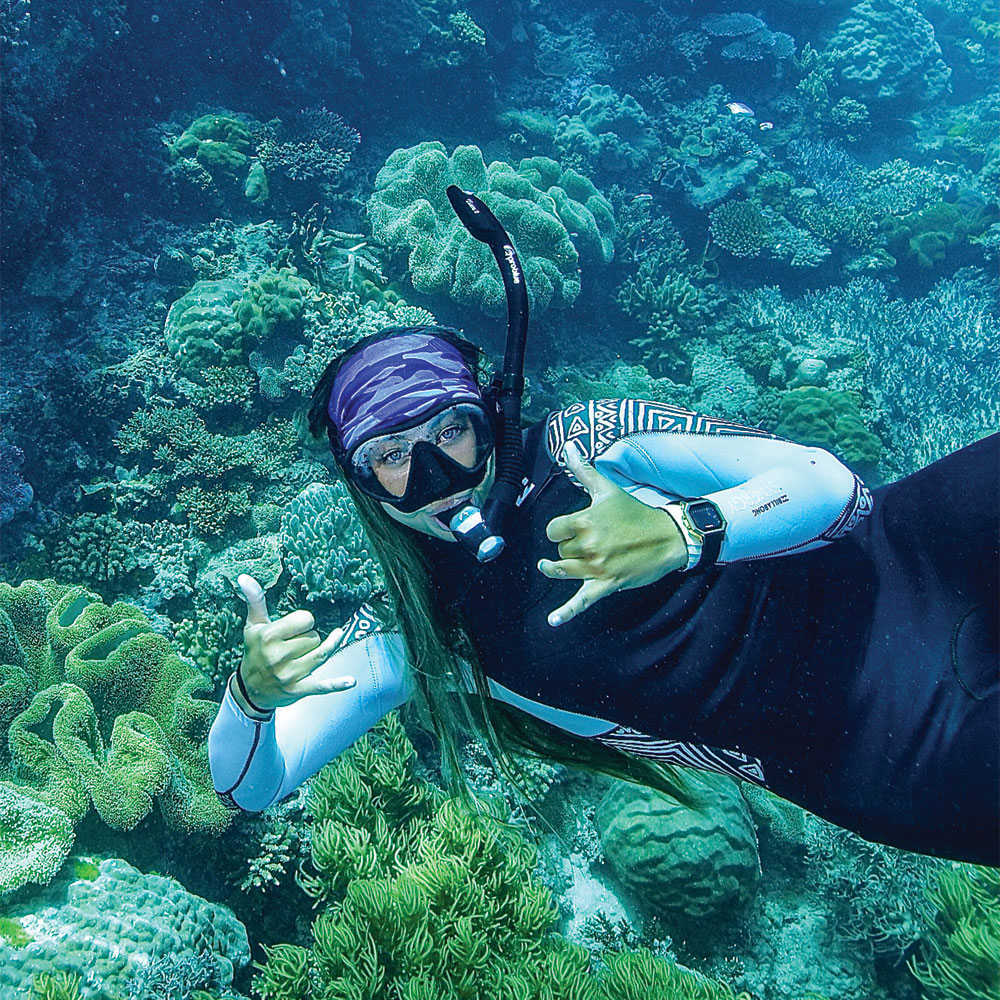 Hi I'm Natalie,
I'm originally from the coastal town of Port Macquarie in NSW. My love and passion
for the ocean began at a young age when my dad use to take me snorkelling in
amongst the rocky tidal lagoon at Shelly Beach. You could not get me out of the
water and if you would have asked me what I wanted to be when I grew up it was
always a marine biologist. From there this passion and dream was nourished at my
high school Newman Senior Technical College where I was offered a school-based
traineeship in aquaculture breeding and wholesaling ornamental clownfish and
propagating coral at the schools Marine Discovery Centre whilst completing years 11
and 12. I then went on to complete a Bachelor of Marine Science and Management
through Southern Cross University.
My greatest love and favourite marine creatures would have to be marine mammals,
particularly humpback whales. I will never forget my first whale watching experience
and I still get the same massive smile when I see them to this day, from this
experience I wanted to learn more and help protect these beautiful giants. After my
degree I worked on whale watching vessels conducting behaviour analysis and
became heavily involved in rescue and stranding events along the NSW coast. But I
will always hold a massive soft spot for anemone fish, as working closely with them
during my schooling cemented my dream of becoming a marine biologist.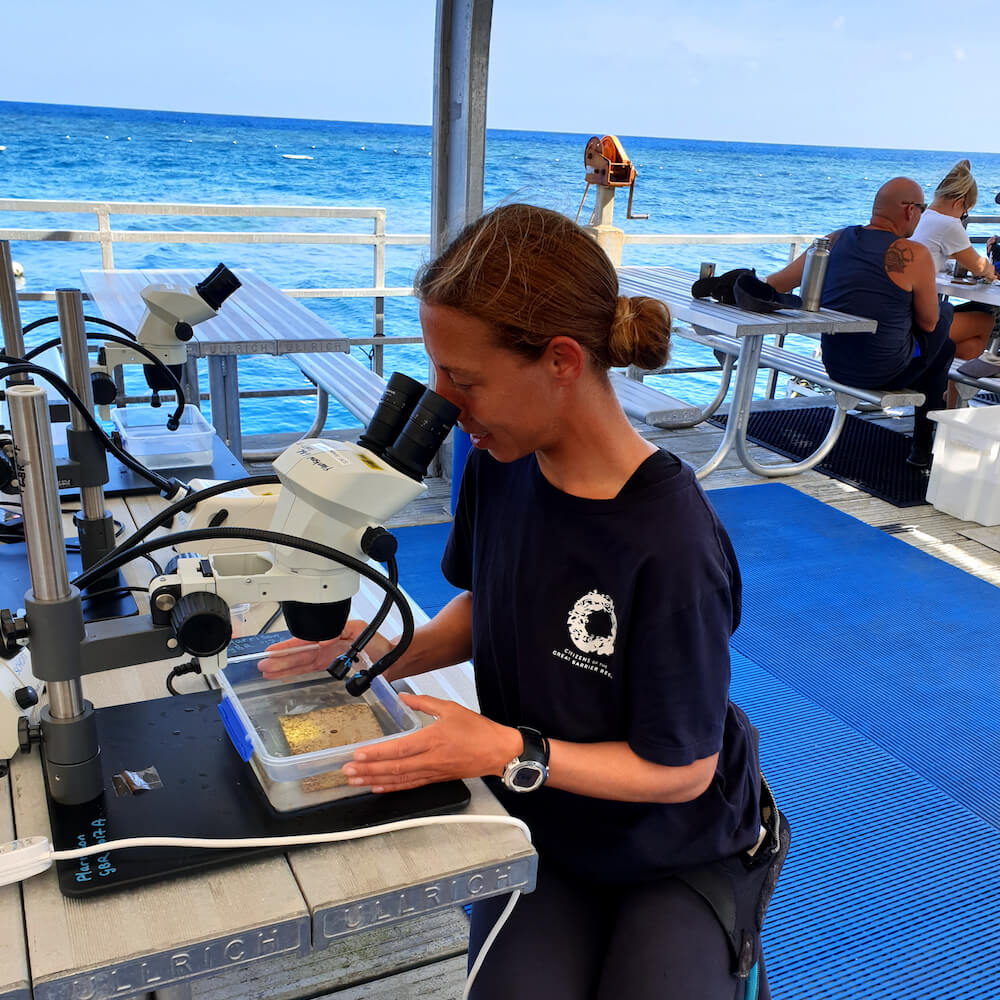 When Caitlin was young, she was fascinated with the intertidal rock pools along the Victorian coast and would spend many weekends discovering the different creatures that inhabit these areas. She started scuba diving at a young age which gave her an appreciation of different marine habitats and a greater insight into how diverse underwater life really was. However, it wasn't until a dive trip to the Great Barrier Reef that her passion really started to take over. She went home, quit a long standing career and moved to Cairns to become a dive instructor. After literally thousands of dives, spending 5 to 11 days at a time on various live-aboards, training divers and acting as an underwater photographer, her instinctive curiosity led her to take up a degree in Marine Science and Management.
There are so many different marine organisms that are truly fascinating, however Cephalopods stand out as one the most intriguing. Squid, of which some are able to swim faster than any other invertebrate. Nautilus, with there incredible chambered shell and over 90 suckerless arms. The hypnotic display of the Cuttlefish that truly memorises its prey is certainly a sight to see. The Octopus' ability to mimic other organisms and adapt to the surroundings by changing shape, colour and texture is truly unique. Watching one solve complex problems or work with other species like a coral trout to obtain food, shows a level of intelligence far beyond most other marine creatures.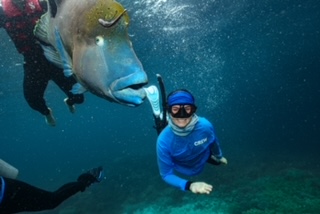 Hey I'm Nicole, a marine biologist from New Zealand. Ever since I was little the ocean had a big place in my heart. I was lucky enough to experience scuba diving through my school growing up and my fascination with the ocean grew greater. I got to visit Heron island on a school trip when I was 17 and experienced the Great Barrier Reef for the first time, since then I was sold on being a marine biologist on the GBR. I studied marine studies and also completed my bachelors of science in ecology and biodiversity and now here I am!
My favourite thing about the GBR would have to be the uniqueness of the coral reefs, the vast ecosystems that I get to experience every single day. I am especially obsessed with any species of stingray and am so thrilled when I get to share the surreal experiences with our guests.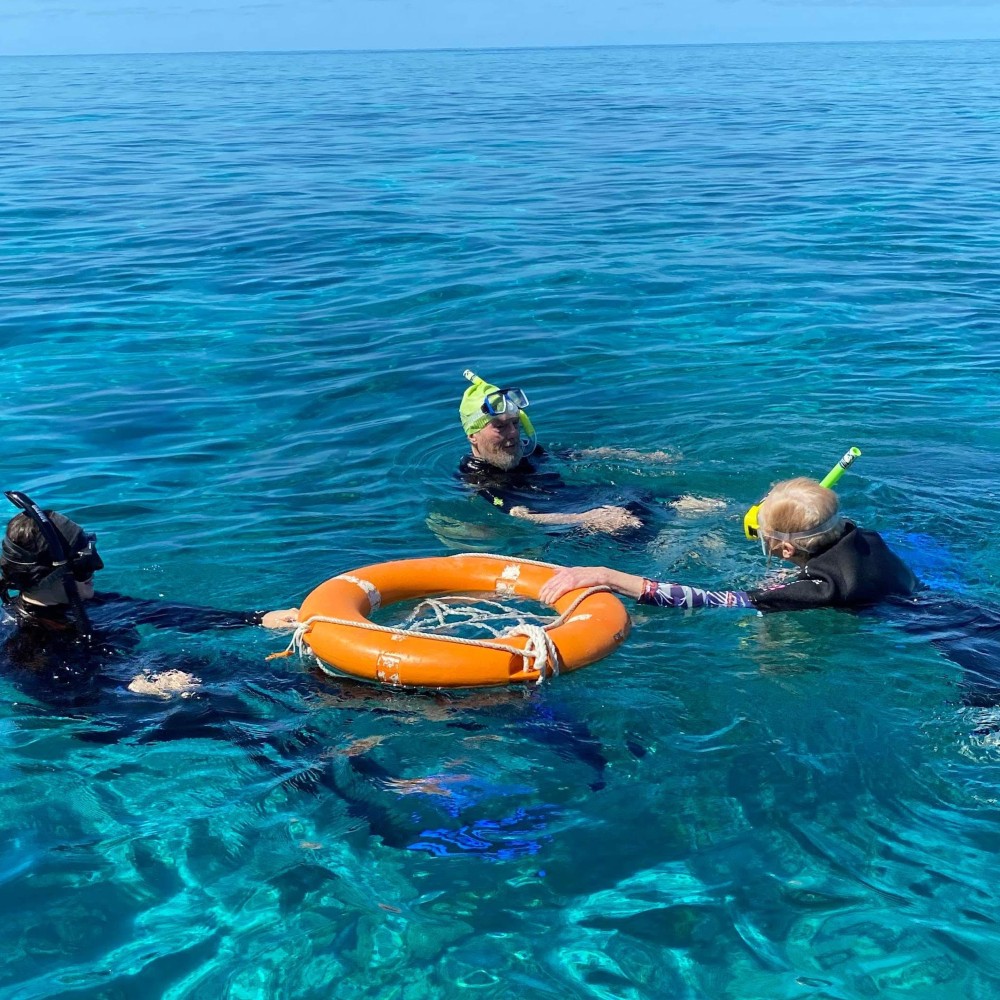 Hi, my name is Kashenka!
I studied Marine Science on the Gold Coast where I was lucky enough to gain
knowledge and experience in predominantly rock pool environments! I grew up in a
coastal town near North Stradbroke Island which is full of amazing marine life. This is
where I passion for the ocean grew! I love sharing my passion and knowledge on the
marine environment in attempts to gain interest and excitement on conservation.
Working on the Great Barrier Reef was always my dream when I began my studies
and I feel very lucky to work at this world heritage site!
My favourite animal on the reef would have to be the Epaulette Shark! The amazing
evolution of these sharks to be able to hold their breath and walk on land with their
fins is amazing! Sharks are very misunderstood creatures and play a very important
role in the marine ecosystem, I get super excited every time I get to swim with any
shark out on the reef!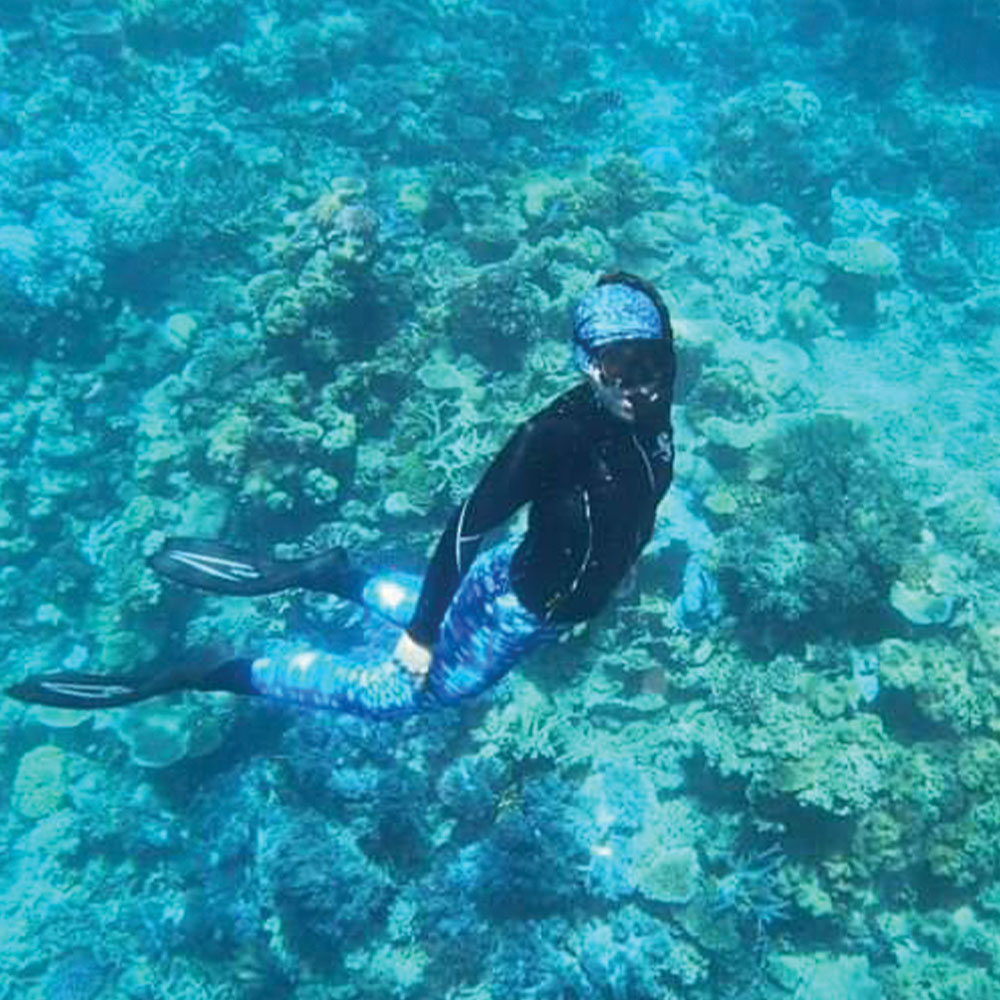 My love of the ocean started in South Australia, and like most of my colleagues it started at a young age. My dad is a keen fisherman, and we never went a long time with out being either in the boat or on the cliffs. Although I spent a little more time climbing cliffs and searching rock pools for creatures, than I did fishing. I always had the passion for nature and exploring, and when it came time to go to Uni I was torn between the land and the sea. In the end I completed a Bachelor of Animal Science at Adelaide University and a Graduate Diploma in Conservation Biology at Macquarie University. But it wasn't long before I was drawn back to the ocean. I volunteered at the South Australian Research and Development Institute (SARDI), in the Aquatic Sciences department. I then worked as a scientific intern for the Gnaraloo Turtle Conservation Program in Western Australia, researching nesting Loggerhead Turtles. Then travelled to the Philippines, and worked as a volunteer dive researcher, surveying for invertebrates. I finally made the move to the Great Barrier Reef, working for InterContinental Hayman Island Resort, as Marine Biologist and Activities Team Leader. A few years later I excitedly made the move to Cairns to begin my work with GBR Biology.
My favourite marine creature is a little bit cliché, but like most things in life your first is always your biggest love. Because of this turtles are probably my favourite marine creature, as they are the first I researched. The fact that there is still so much that we don't know about their life cycles, and natal homing processes is what fascinates me about them so much. As well as each individual seeming to have their own unique personality.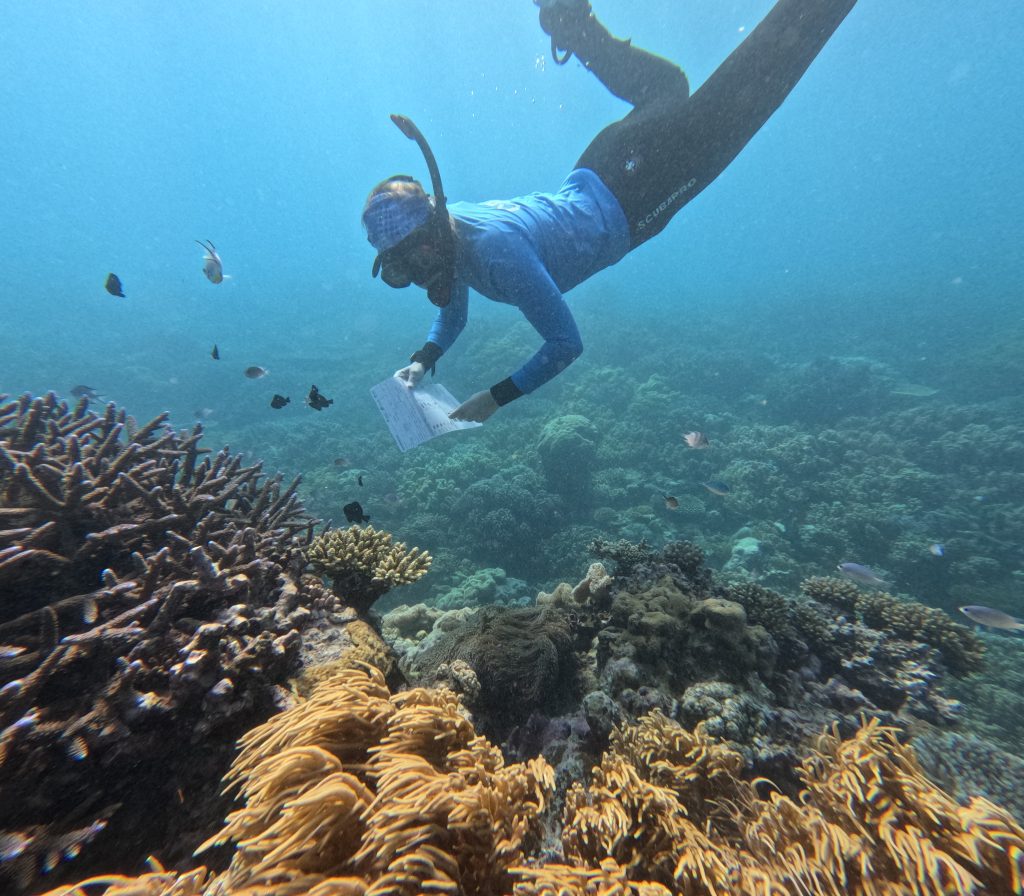 Hey, my name is Bex and I am a Marine Biologist from the United Kingdom. My first ever experience on a coral reef was during my Open Water Scuba Diving course in Cairns in 2019, where I completely fell in love with the Great Barrier Reef and all of the amazing species which call it their home. This experience inspired me to volunteer in multiple marine conservation and research programmes globally and achieve my Divemaster qualification. In 2021, with a dream to pursue a career as a Marine Biologist, I enrolled in an MSc Tropical Marine Biology degree at the University of Essex, from which I graduated with Distinction grade. During my studies I developed a particular interest in coral restoration and conservation efforts and how they may be implemented most effectively in order to restore coral reefs globally. Ever since my first trip to the GBR it has been my goal to one day be lucky enough to call it my office. Working at GBR Biology is my greatest achievement so far and although I am still fairly new to the team, I have loved every minute and can not wait for all that is to come.
It is impossible to pick just one thing that I love about the GBR! The GBR is one of the most biodiverse and complex natural ecosystems on Earth, which makes working on the reef incredibly interesting and exciting, as I constantly get to explore and further my knowledge about the reef and the different organisms that live there. However, my favourite thing about working on the GBR, is getting to show others its amazing natural beauty and watch as they fall in love with it for the first time, just like I did on my first visit.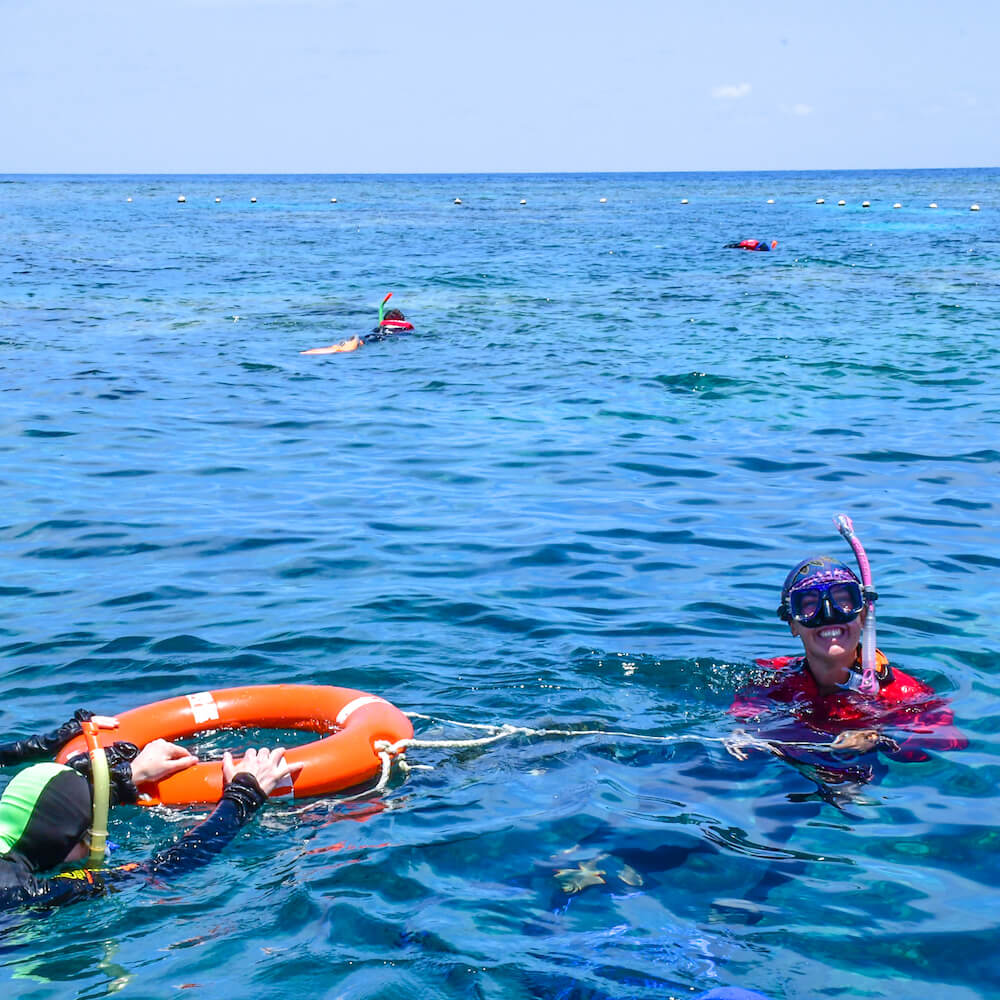 B.Env.Sc
The marine world has always fascinated Caitlin and ever since she was young, she has loved being immersed in water. As she learned more about the marine world, and still continues to, her passion and interest in marine biology has grown. Caitlin comes from an environmental management background with a focus on marine biology, therefore she loves the intricate processes and delicate balances within ecosystems that allow different environments, such as coral reefs, to be so productive and in turn produce such an abundance and diversity of life.
Favourite thing on the reef:
One of the coolest interactions in a coral reef, to Caitlin, is that of coral colonies themselves - the symbiotic relationship between coral polyps and microscopic algae (zooxanthellae). This might seem trivial and not that important, but to Caitlin it's remarkable. Think about it like this, if there wasn't this relationship between a tiny animal and an even smaller plant, then about 25% of all marine species would seize to exist.
Through the complex structures that these coral colonies create, they provide a habitat for an abundance of species from large colourful fish like parrotfish and Maori Wrasses to smaller organisms like Christmas Tree Worms and Nudibranchs. As well as this, it allows for larger species like epic reef sharks and rays and our beautiful migratory mammals the Dwarf Minke Whale. It might sound a bit cliché, but this tiny interaction between an animal and a plant is the reason we have the incredible Great Barrier Reef and other coral reef ecosystems, therefore to Caitlin, it is the coolest aspect of coral reef environments.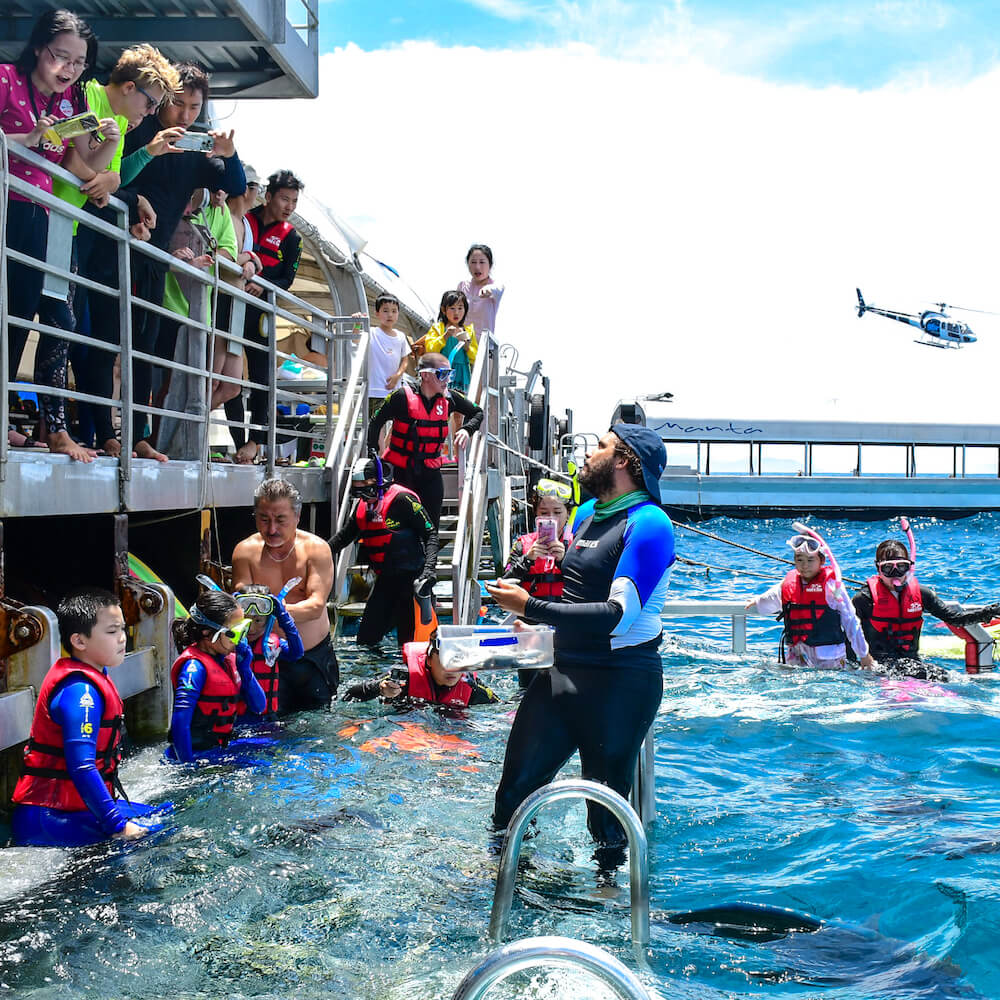 BSc., MSc.
I'm Julio Rodríguez. I'm a Spanish guy that studied a biology degree in Madrid and a Master's degree in Conservation in Tropical Countries, focusing my career in science communication and the relationships between natural ecosystems and human environments.
I became a marine biologist to share my love for the Great Barrier Reef with the passengers of our boats. Also I really like to guide them around one of the most unique places in the world and, if we are really lucky, spot a Moorish Idol which is my favorite animal of the GBR.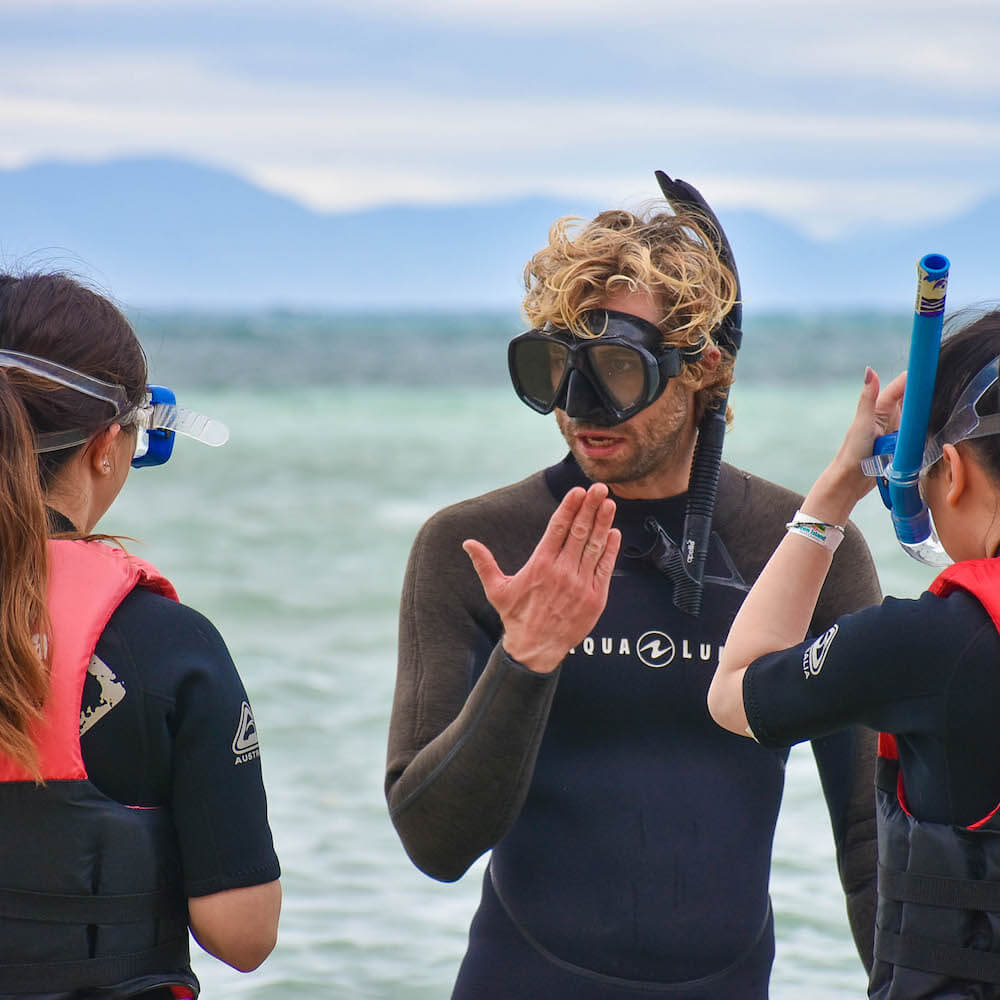 BSc., MSc.
Since reading 20,000 Leagues Under the Sea as a child, Cale has been fascinated by the marine environment. Coupled with a love-affair with swimming and family trips to the NSW coast every summer, it was only natural that I would be drawn to study the ocean. I completed my Bachelor's degree in Marine Science, but the more I learnt about the marine world, the more I realised that we need to conserve it, so I went back to university to complete a Master's Degree in Tropical Ecology and Conservation Biology. I moved to Madagascar and spent the next three years working on a marine biodiversity and conservation project there, before heading back home to Australia and the Great Barrier Reef.
Favourite thing on the reef:
My favourite marine animal is the nudibranch, a colourful marine gastropod. Not only do they come in a dazzling array of bright and contrasting colours, but they adopt the defences of the animals they eat, from the stinging cells of jellyfish to the toxins of sponges. They then integrate these defences into their own bodies to increase their own defences.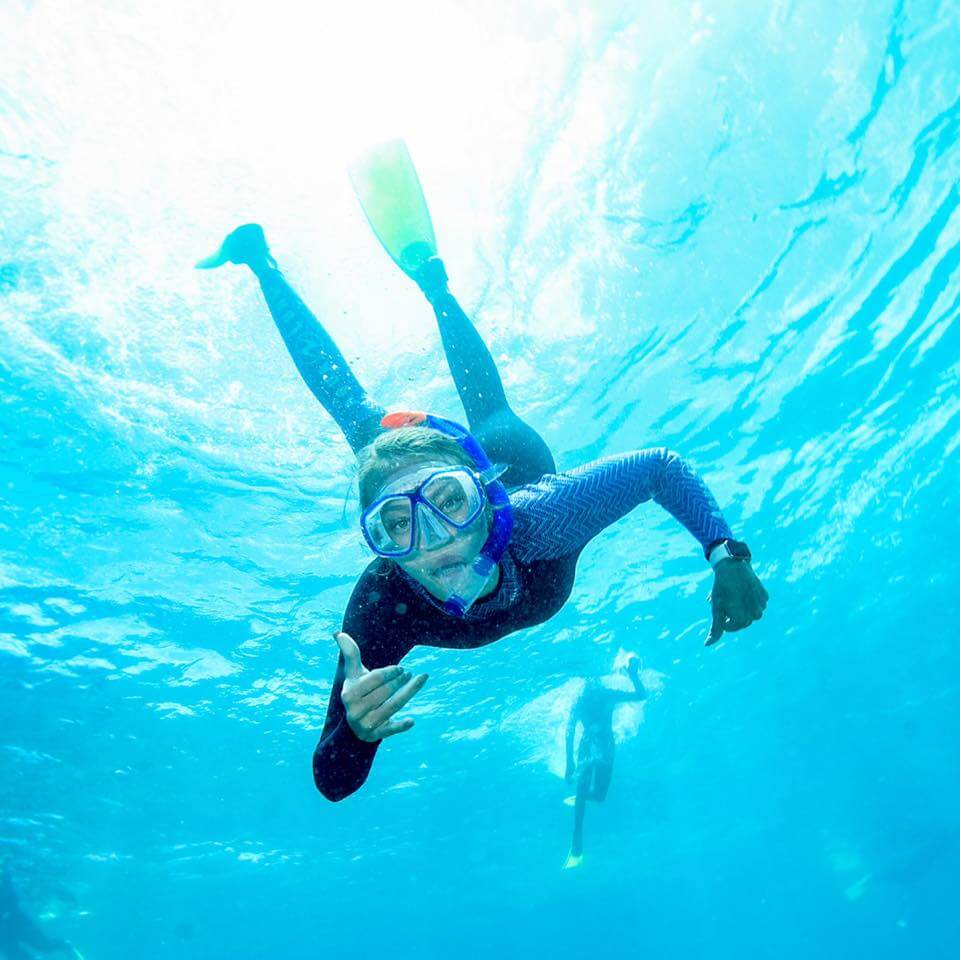 BA (Biology)
Hello, my name is Danielle Gleason and I have wanted to be a Marine Biologist since I was little girl. Of course if you would have asked young Danielle I would have most likely said "I just want to swim and play with the dolphins," but that was a pretty good indication I was headed in this direction. Even though I grew up nowhere near the sea, I made my way to the coast and pursued the education needed to work in the field of my dreams. I may have strayed from playing with dolphins but, now more than ever, give my all to gain more experience and knowledge in the area of study that I love.
Favourite thing on the reef:
The Stomatopod (otherwise known as the Mantis Shrimp) is one of my favourite organisms that inhabit the sea. They are benthic marine crustaceans that are generally found in tropical waters. I think they are extremely fascinating creatures that hold some incredible abilities. They have the ability to create such a force "punch" in the water that it generates a sound so extreme that it results in a miniature explosion that gets so hot that it evaporates a part of the water creating an air pocket right with the punch that has a force that equals to a bullet being fired from a weapon. Along with the punch comes their ability to see better than any organism that is known to man at the moment. Most crustaceans have retinas that contain the ability to process only one class of photoreceptors while the adult Mantis Shrimp can process up to sixteen photoreceptor classes.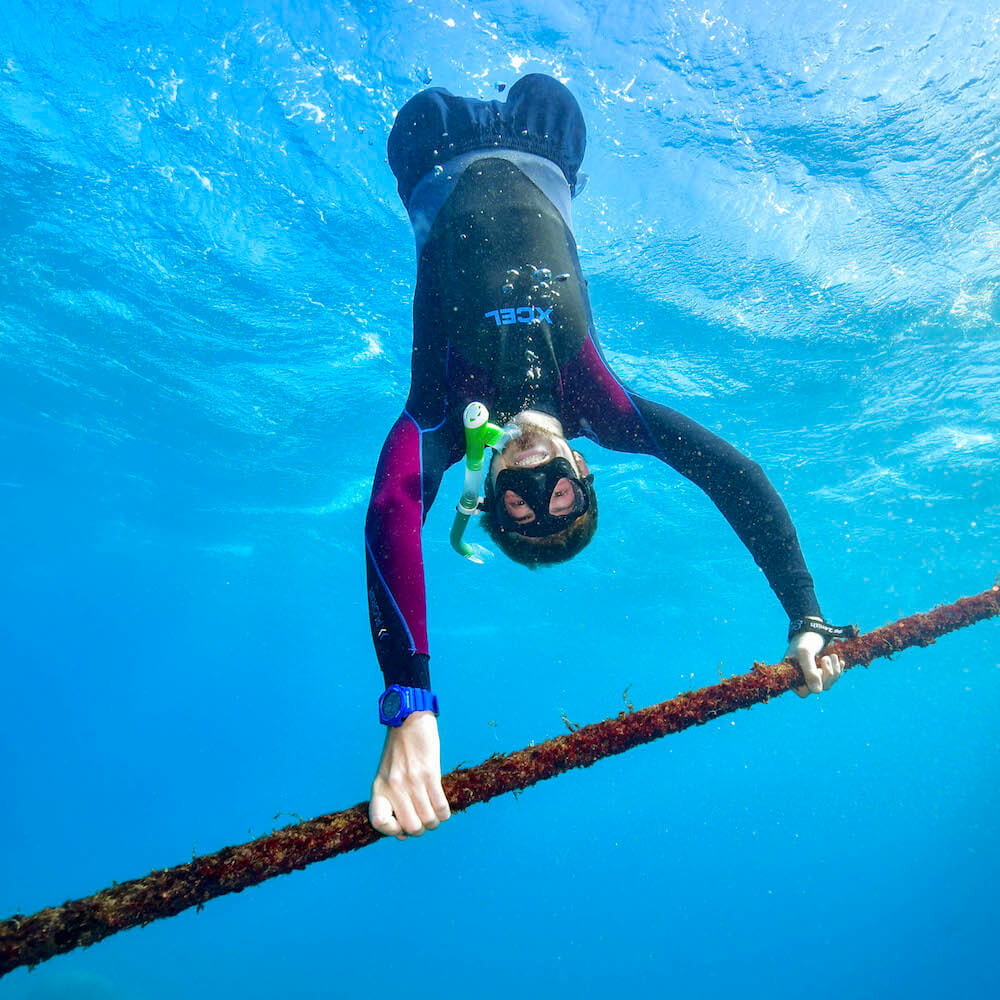 BSc
Daniels fascination and intrigue for the marine environment began at an early age when he was first introduced to the aquarium hobby. Since then, his desire to pursue a career in marine biology has grown into a lifelong passion. In particular, Daniel is an enthusiastic shark conservationist. After completing a bachelors' degree in biology at Macquarie University, Daniel also volunteered as a research assistant investigating olfactory navigation and social learning of Port Jackson sharks. He hopes to use his knowledge to help educate others about the amazing biology and behaviour displayed by sharks and thus inspire people to help protect them. During a university field trip on the Great Barrier Reef at Herron Island, Daniel learned how crucially important reef ecosystems are for an immense diversity of life, including over 130 species of sharks and rays. In summary, working with GBR Biology to promote reef conservation and shark education is a dream come true for Daniel!
Favorite thing on the reef
Daniels favourite species on the Great Barrier Reef is the tiger Shark (Galeocerdo cuvier). A particularly large species of fish, tiger sharks can grow to over 6 metres long and weigh up to half a ton! These amazing apex predators are known to migrate incredible distances for both feeding and reproduction, with larger females having been recorded travelling over 4800km's in a single journey over less than 5 months. Their reproductive biology is also rather fascinating. Tiger shark eggs will hatch inside their mothers before their born. While inside the womb these shark pups are known to eat unfertilized eggs and even their own siblings before birth, how cool is that!!!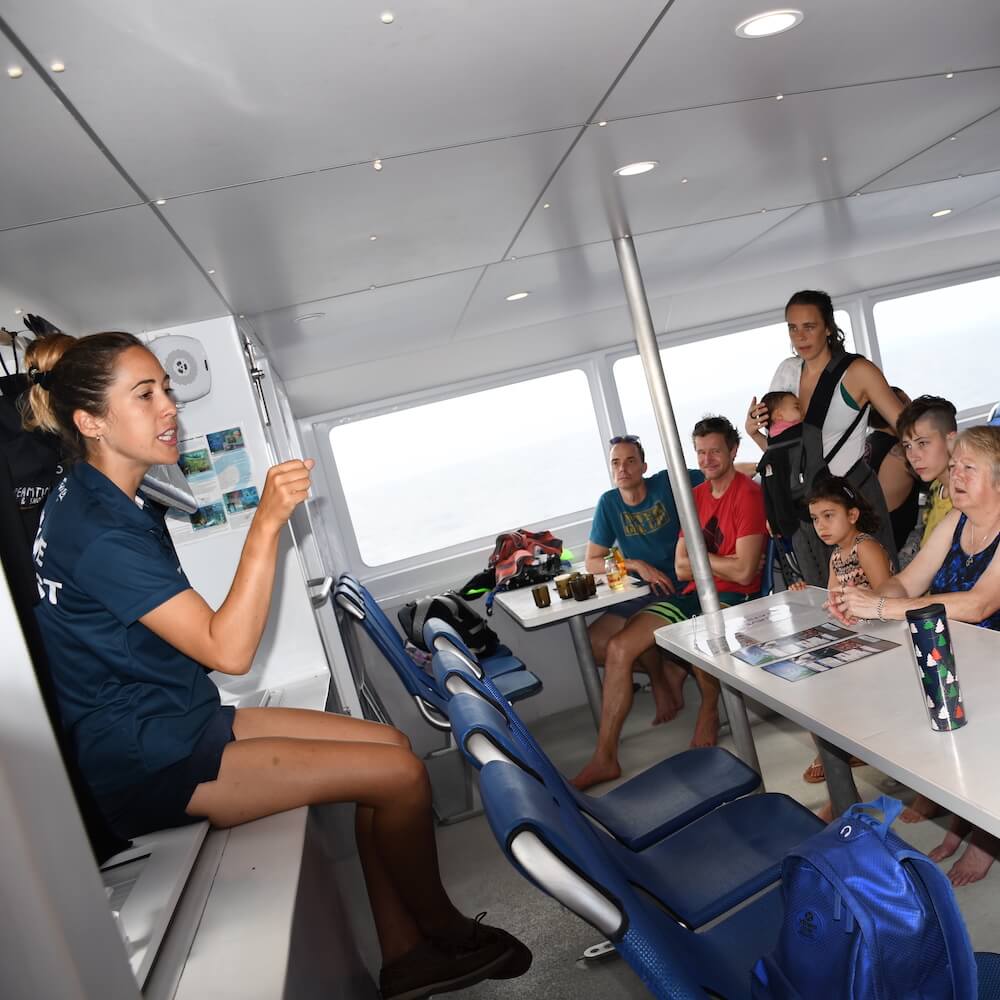 BSc, MSc
My name is Andrea Varela. After obtaining my biology degree in Spain I went to Mexico to study lion fish populations. There is where I discover my passion for marine biology. For this reason, I started working in Costa Rica with my favourite animals, the brittle stars, for my Master´s degree in Biodiversity in Tropical Areas and its Conservation.
Now, because of my work with GBR Biology, I am able to enjoy the Great Barrier Reef every day and to make people know the great importance that preserving this exceptional ecosystem has for our planet.
Favourite thing on the reef:
Brittle Stars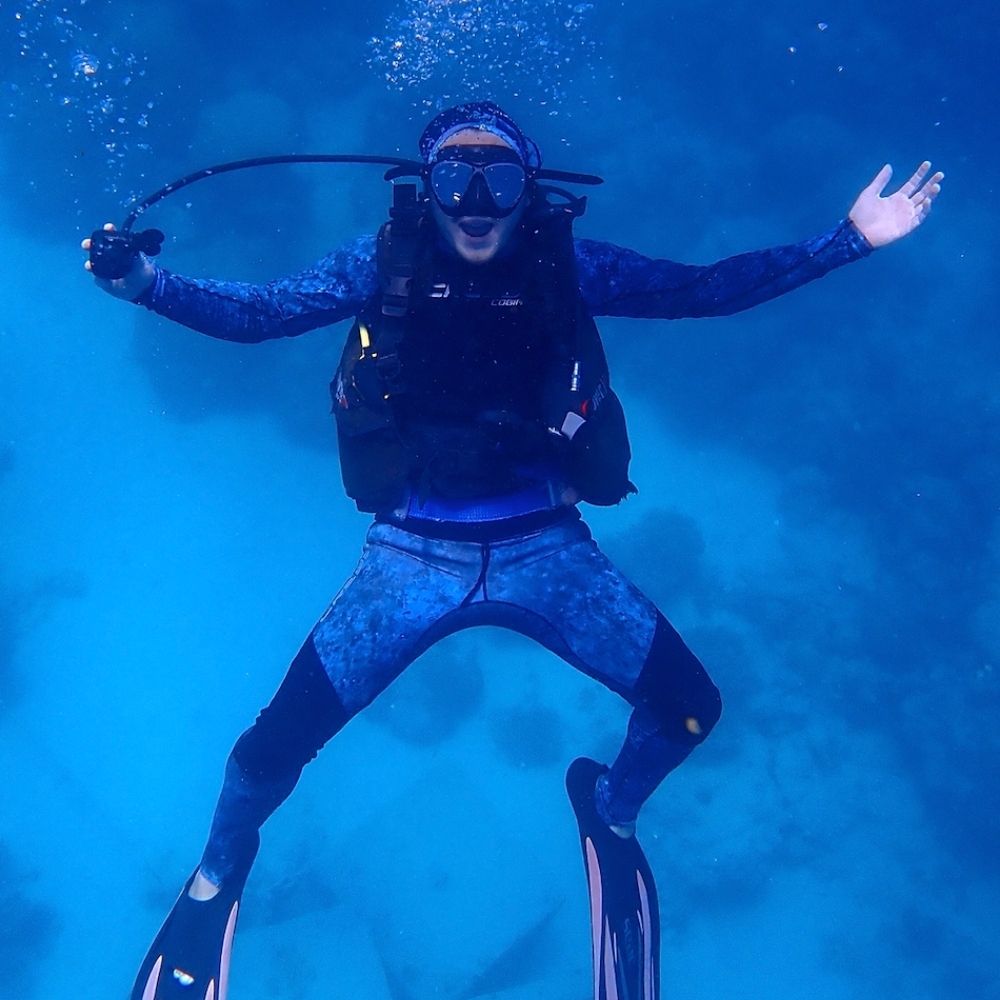 BSc
Will's passion for marine life and the ocean began at a young age growing up on the South Australian coast where he would spend countless weekends looking for whales, dolphins and seabirds. It was these trips that would later drive Will into pursuing a degree in Marine Biology. During his degree, Will spent a year in South Africa working on Shark Cage Diving and Whale Watching vessels where his passion for the ocean and desire to educate people developed even further.
Will first dived on the Great Barrier Reef in 2017 out of Port Douglas and was blown away by the diversity and colour of the reef. After finding a pair of false clownfish (Nemos) in their anemone, Will decided that one day he would work on the GBR. Since working with GBR Biology and getting the opportunity to be in the water every day, Will has been driven to learn as much as he can about the reef and its inhabitants to gain a greater understanding of this unique environment and share his information with anyone that will listen.
Favourite thing on the reef
Will's favourite animal to see on the GBR is the Humpback Whale (Megaptera novaeangliae).
These huge mammals undertake one the longest migrations of any animal on the planet, an annual 10,000km round trip from the frigid feeding grounds in the Antarctic, to the warm coastal breeding grounds off Australia's east coast. It is always awesome to see any humpback whale, but the most impressive behaviour in Will's opinion is observed in competition pods. Competition pods consist of one adult female being followed by multiple large adult males. The males are observed breaching, tail throwing, pec-slapping and lunging their 40-ton bodies at each other, fighting for the opportunity to mate with that female. These competition pods can sometimes last for hours and be one of the most exhilarating and exciting events to witness at sea.
Cool Fact! Their scientific name (Megaptera novaeangliae) translates to 'Big-Winged New Englander'. Megaptera comes from the Greek, mega, 'big' and ptera for wings, referring to their large pectoral flippers which are the longest appendage of any animal in the world at a whopping 5m long! The second half, 'novaeangliae' is Latin for New Englander. Humpbacks were given this name from a specimen that washed up in New England, USA in 18th Century.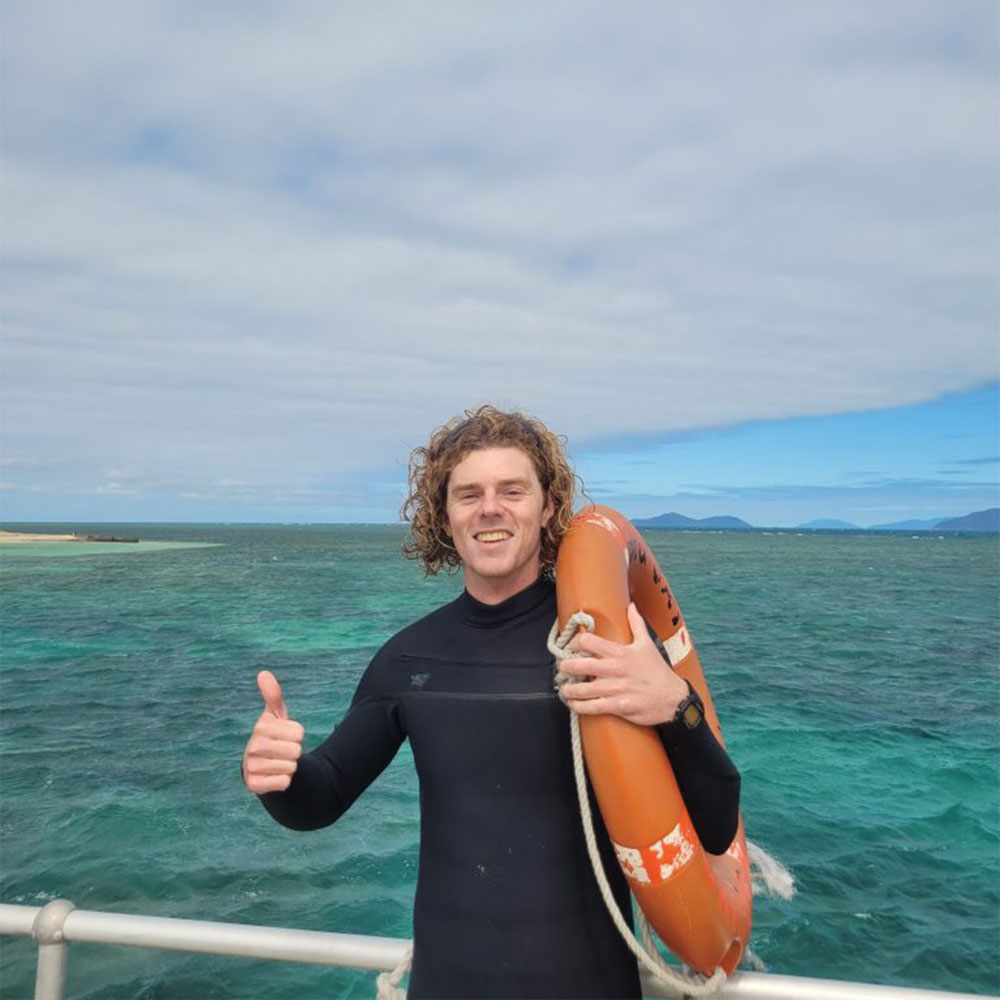 Hey I'm Sam!
BSc, MSc
My fascination with the ocean started as far back as I can remember. I grew up on the central coast of New South Wales and spent many days at the beach snorkelling amongst the kelp and surfing. I always wanted to understand the marine world better, so I took up a degree in Marine Biology in Sydney after High School. After graduating from this degree, I began a Master's research degree focusing on researching the ecology, habitat and prey associations of the iconic Weedy Seadragon. During this time, I was able to publish of my findings as well as present at some international conferences. Whilst completing my research I was also able to collaborate on other projects looking at endangered seahorse populations and vagrant tropical damsel fish movements and associations with vagrant coral habitat. During my studies I was able to also visit Heron Island on the Great Barrier Reef as both a student and teacher which allowed me to fully appreciate the amazing biodiversity the GBR has to offer!
My favourite marine creatures are Syngnathids, that is seahorses, seadragons, pipefish and pipehorses. Whilst there are no seadragons on the Great Barrier Reef there are some amazing species of pipefish and seahorse that I love to keep my eyes out for as they camouflage amongst the coral.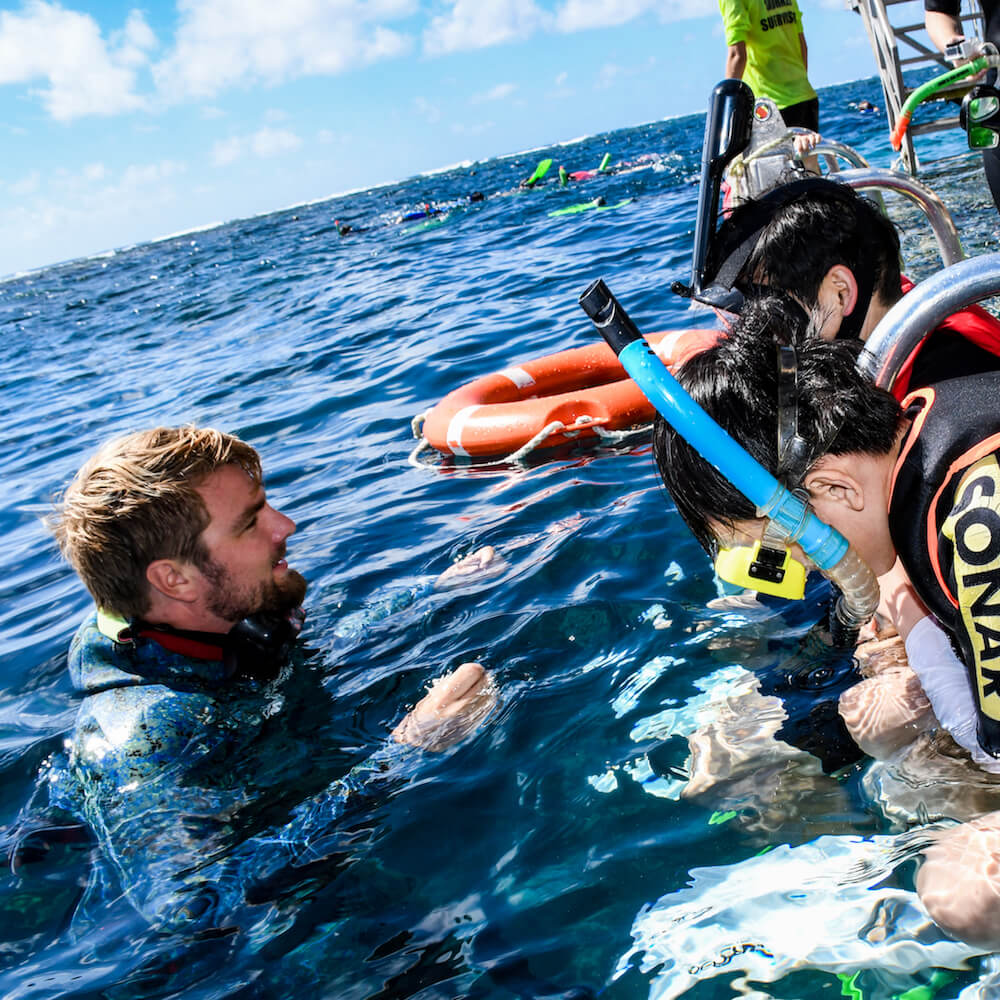 B.Env.Sc. (Hons)
Justin is from Victoria where he graduated from Deakin University with a Bachelor of Environmental Science with Honours in Marine Biology. During this time, he also completed a part of his studies in Hawaii at Hawaii Pacific University.
Justin first fell in love with coral reefs in 2004, when a family holiday to Fiji saw him undertake his first scuba dive. He first visited the Great Barrier Reef in 2006 on a diving trip and was instantly taken by the diversity of life he saw.
Eager to get back to the Great Barrier Reef he traveled to Heron Island to undertake a research project on Green Sea Turtle nesting behaviour and upon completion of his studies relocated to Cairns in 2015. He has worked for Reef Magic since and on the merger into the Experience Co. group diversified to the other products and projects as they arose.
He currently fills a senior role within the GBR biology team and can often be found on one of our vessels leading interpretation of the stories the Great Barrier Reef holds to passengers from all over the world. He is also a leading member of the Reef Education program and works with local, national and international schools and universities leading educational trips to local reefs and islands.
Justin has a great deal of involvement in the monitoring and research conducted at our reef sites with a focus on Crown of Thorns Starfish research and control and the 'Eye on the Reef' monitoring program in association with The Great Barrier Reef Marine Park Authority.
Favourite thing on the reef:
Justin's favourite thing to see on the reef is Mollusc, which definitely represent the weird and wonderful of the Great Barrier Reef. Often something that first timers to the reef will miss they are at the top of the 'must see' list for seasoned visitors.
A closer look at coral reefs shows that Mollusc actually represent a huge proportion of the life that can be found. Invertebrates make up around 98% of the life on a coral reef and Mollusc are a fantastic part of this group to look out for.
The largest to be found is surely the Giant Clams. Measuring up to almost 1.4m across, weighing up to 300kg and living to be more than 100 years old.
Cephalopods (octopus, squids, cuttlefish, nautilus etc.) are incredible animals that represent some of the most intelligent invertebrates on earth. They employ a fantastic range of predator avoidance techniques from bursts of ink to the ability to rapidly change colour. Some will build themselves a home from debris (like coconuts) and others even rip tentacles off jellyfish to use as defence!
A crowd favourite is always the tiny yet terrific nudibranchs. These little animals often called 'sea slugs' come in a dazzling array of bright colours used for camouflage or even a warning to anything that may try to eat them. Some can even eat stinging hydroids and steal the stinging cells to defend themselves.
Even the snails underwater are amazing. Stunningly decorated cowrie shells, intricate spider conch and the amazing Triton Snails can all be seen exploring under the coral. The Triton Snails are the major predator of the coralivorous (coral eating) Crown-of-Thorns Starfish. Not only are these animals diverse and a treat for the eyes but they play many vitally important roles in a coral reef ecosystem.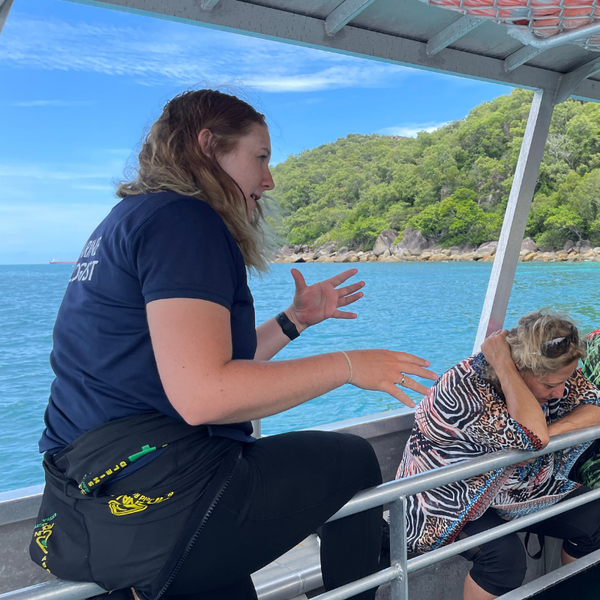 Hi my name is Tiah and I'm a Marine Scientist from the Gold Coast.
I completed my bachelor's degree in marine science, and minor in coastal management allowing me to gain knowledge on a variety of different fields within marine science. My particular interest was found in chemical ecology in the marine environment. This led me to doing my final project on sea slugs where I discovered a whole new compound to science!
While completing my degree I was able to volunteer as a marine mammal researcher on whale watching boats. This gave me my first experience within the tourism industry, inspiring me to find a job within the industry. I especially love engaging with the community to educate them on our amazing oceans and wildlife.
My favourite thing about the GBR is that it's one of the most biologically diverse ecosystems in the world and there is always something new to see or experience! There is still so much to learn about the reef and how it operates which means even while I am sharing my stories of the reef with guests I am also always learning.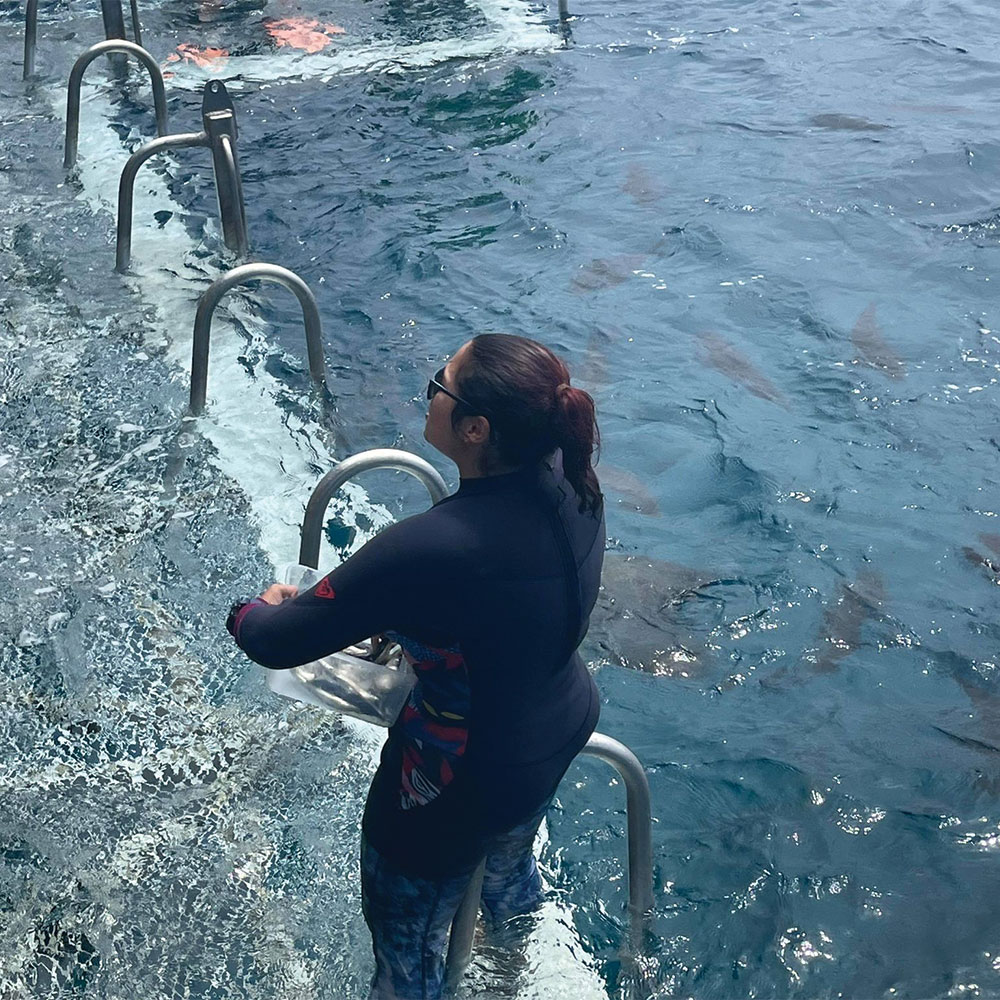 My name is Bec and I'm originally from Ipswich, Australia. The first time I came to Cairns, I was in Year 7 and I spent a day on the reef with my family. I immediately fell in love with the Great Barrier Reef and decided to follow my passion by studying marine and environmental sciences at Southern Cross University. My favourite part about my job is educating people about the extensive biodiversity on our GBR and highlighting the weird and wonderful organisms that call it home.
I love cephalopods and at Reef Magic's Pontoon we have a squad of squid that I love to show people. They are shy at first but then begin to flash their gorgeous colours. My dream is to one day witness the Giant Cuttlefish mating event that happens in South Australia. I look forward to seeing you out on the Reef!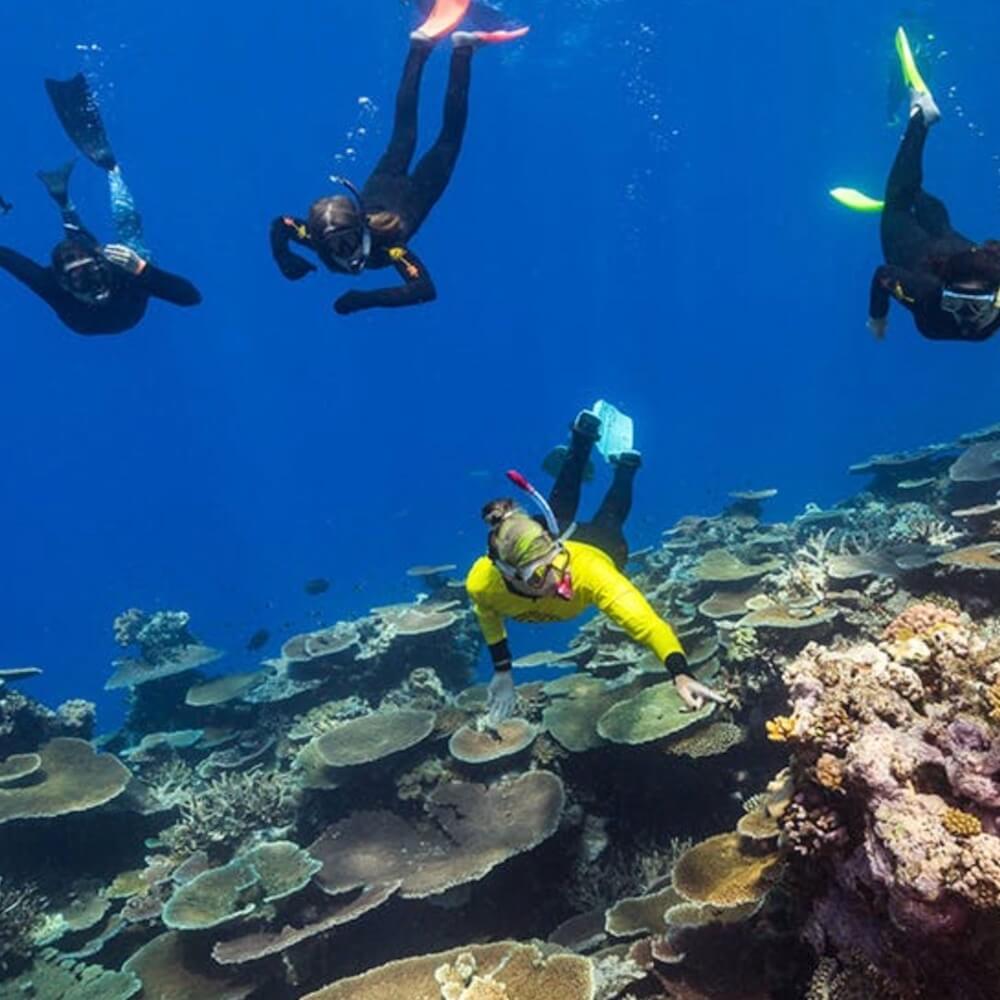 Michelle, originally from the Netherlands, has been interested in the marine world and conservation ever since she first learned about the endangered Florida manatee when she was nine years old. During a study abroad university course in the Bahamas, she first got to snorkel around coral reefs and discovered the incredibly diverse ecosystem found just under the surface. This experience confirmed her desire to study marine biology further. While pursuing a master's degree in marine biology at James Cook University in Townsville, she was able to visit the Great Barrier Reef for the first time and also learned a great deal about the conservation efforts needed to protect it. She found herself becoming more interested in public education and scientific communication, and finds it incredibly important to tell people about coral reefs and why we need to protect them. Luckily, she gets to do this every day with tourists from all over the world.
Favorite thing on the reef
Michelle's favourite reef animal is the Bumphead Parrotfish. As the largest species of parrotfish in the world, they use their large parrot-like teeth to bite off large chunks of coral. Their extra set of jaws crushes up the coral's limestone skeleton, so after the nutritious live tissue is digested the skeleton is passed out as sand. When groups of Bumphead Parrotfish feed on areas of coral, large clouds of sand are produced behind them. They are mesmerising to watch, especially in large groups, as these parrotfish are often over one metre long, and are not bothered by human presence at all. The process of turning coral skeleton into sand is also important for the bioerosion of the reef ecosystem, as it produces much of the sand found on coral reefs and has even contribute to the formation of coral islands such as Green Island.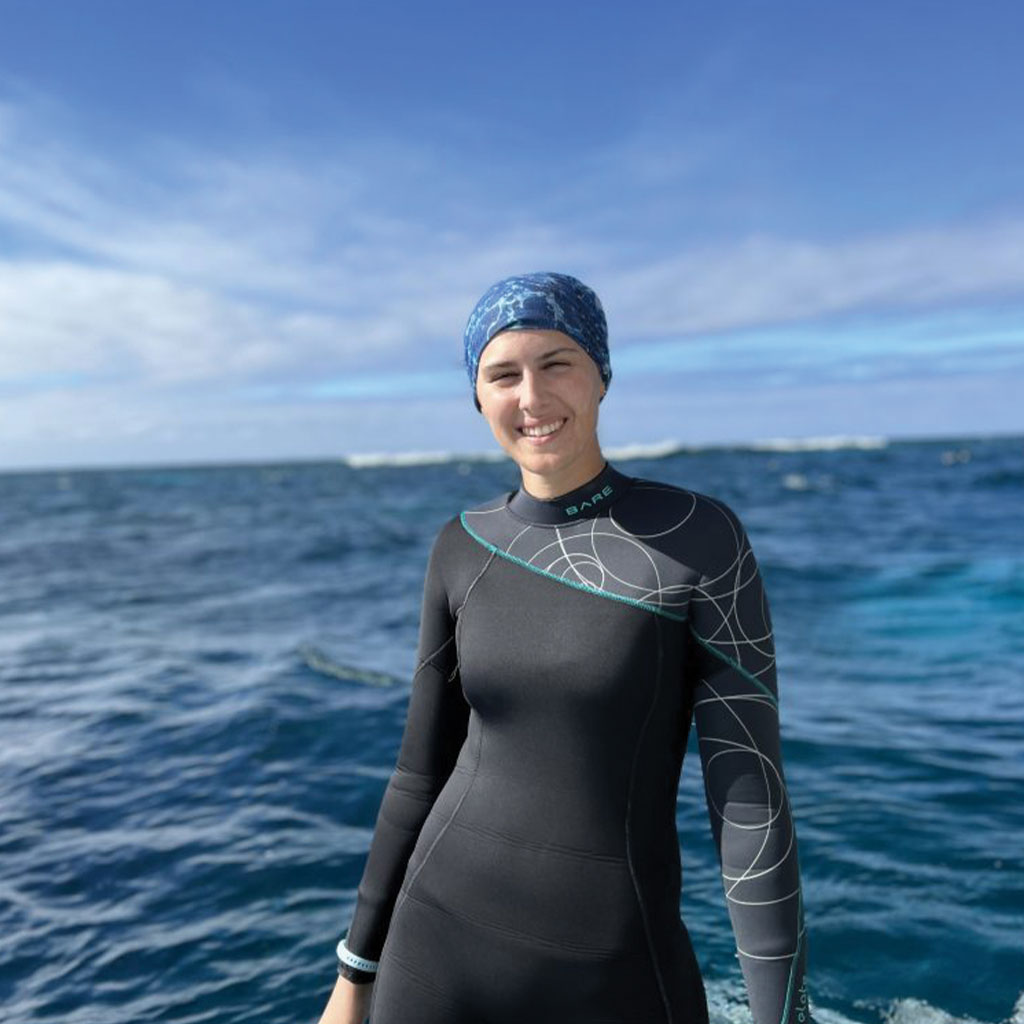 Hello I'm Alysia!
I am from the Mornington Peninsula in Victoria. Growing up along the coastline the ocean has always held a special place in my heart, whether I was exploring around the rockpools or swimming in the Bay. I decided to pursue a career in Marine Biology so I can continue following my passion and expanding my knowledge on the ocean.
I completed my Master's degree majoring in Marine Biology at James Cook University in Townsville, Queensland, Australia in 2020. Living in north Queensland during my studies I fell in love with the types of life in the tropical waters and was determined to work here on the Great Barrier Reef.
I am truly fascinated by the phylum Cnidaria, it is an incredible bunch made up of symmetrical invertebrates including jellyfish, anemones, hydras and most impressive of all coral polyps. Within this phylum these animals are equipped with tentacles that are made up of stinging cells, which the animals use to capture their food whether its tiny plankton in the water or larger prey items such as fish.Corals are truly an amazing species, they make up the very foundation that thousands of animals big and small use as their home. Without corals we wouldn't have such a vast array of life concentrated in one place!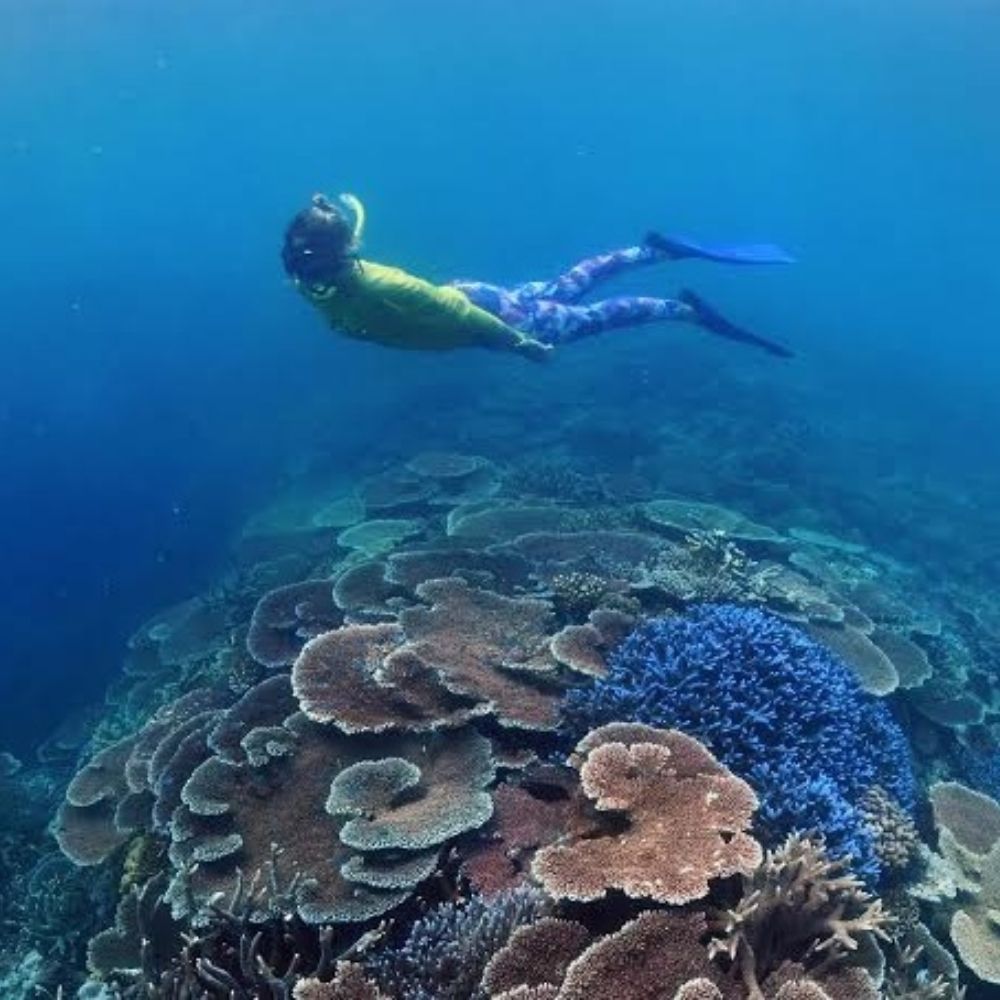 Bachelor of Environmental Science Marine Biology- Deakin
Masters Education - CQU
Master Reef Guide
Bio:
G'day I'm Sam, a Marine Biologist and Master Reef Guide with a Masters of Education. I moved to Queensland to chase my dream of working on the reef in 2014 and have never looked back. After a childhood of Summer trips to the beach I couldn't get my brain or heart back on the land. My heart was lost to the sound of waves and salty air. I have gained experience on the Great Barrier Reef by living and breathing it, I have had the opportunity to live on a tropical island surrounded by fringing reef and discovering unseen areas of the reef on board expeditions. This has allowed me to see areas of the reef I once could only dream of and enhanced my passion for discovery and education on the Great Barrier Reef. My position with GBR Biology allows me to bring together my passion and love for the Reef and education. I am able to share my knowledge and stories of the Reef with the community and future generations.
Favourite thing on the reef:
When spending time in the water it's nearly impossible to decide what my favourite thing about the reef is. I do love seeing different species of nudibranch on the reef. They remind me that it's important to slow down and appreciate the little things. The thing that I love about Nudibranch is that they can come in the most subtle patterns up to the most flamboyant and intricate designs.